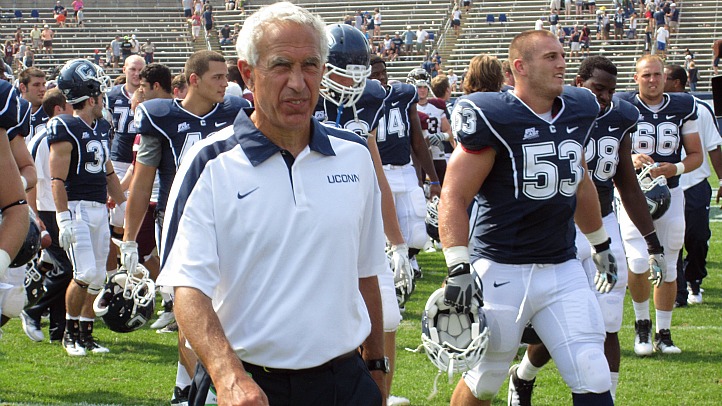 Coach Paul Pasqualoni admitted Tuesday that he had a tough time choosing team captains, something the New York Jets' Rex Ryan can certainly identify with. Hopefully, that's where the similarities end between the two teams.

"I talked to all the seniors together and explained to them that I did want to select captains for the team," Pasqualoni said on a conference call with reporters. "I thought based on the uniqueness and playing experience that our best leadership would come from senior group. So I told the team, we have at each level of our program good leadership, and with all due respect to everyone in the room, because of the amount of experience we have, the seniors would be in the position to provide the best leadership."

Two other nuggets to come from the call:

* True freshman Casey Cochran won't be redshirted. He also won't be working with the scout team. According to Pasqualoni, Cochran is part of the travel team. Despite breaking his non-throwing hand just before training camp, Cochran has returned to practice and is taking reps. SNY.tv's John Silver offers some insight on the decision:

"The logic behind taking him on the travel squad is preparing him to play. Even if he doesn't get in the game, he is in the meeting rooms and running the offense. His reps are limited, but, scout team players (are) usually off the radar and not in the pipeline at all for this year."

That means more competition. For a position surrounded in uncertainty a year ago, that's a good thing.

* Sophomore running back Lyle McCombs could be the key to UConn's success on offense. But the group has depth, too. McCombs will be joined by Martin Hyppolite, Max DeLorenzo and true freshman Joe Williams.

"We were very fortunate last year with Lyle," running backs coach Clayton White told the Hartford Courant's Desmond Conner. "I think we realize that and these guys will bring fresh legs into the game and the thing about each player, is that they all bring something different than the other guy. They all have a role although it's not set in stone yet, but I like all three of those guys. They've all been fighting and it's a pretty good group. I'd say their stock, all of them, has risen because of the competition."