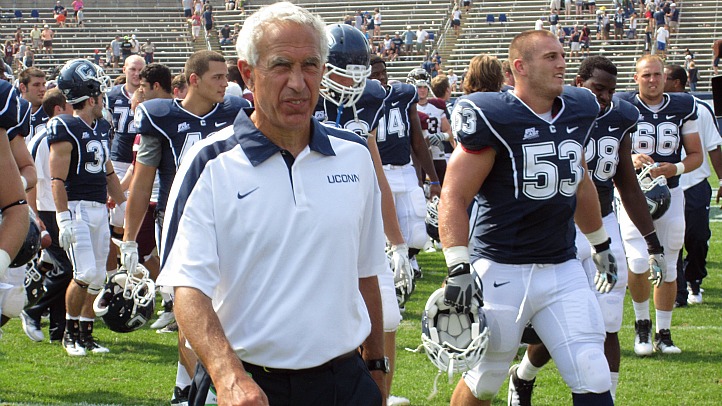 "Inconsistent" is the best word to describe UConn's 2011 football season. And "expected" might be the second-best word. The Huskies were a team in transition; they lost key players on offense, the coach bolted to Maryland without warning, and the new (old) guy, Paul Pasqualoni understands that programs aren't built overnight.

So, yes, there have been some rough patches. But there have been some bright spots, too. Most recently, last week's convincing victory over Rutgers. And now, despite it all, the Huskies, 5-6, are one game away from becoming bowl eligible. That may not seem like much of an accomplishment for a team that played in a BCS bowl a year ago, but given all the upheaval leading up to the 2011 season, it's a noteworthy accomplishment.

And Pasqualoni is just happy for the opportunity, which will only come if UConn can get past Cincinnati Saturday.

"There are no bad bowls," Pasqualoni said during his Monday conference call, according to the Hartford Courant. "I've never been to a bad one. I think they're all good. It gives you an opportunity to keep your team together, here at the end for the semester, when the academic thing is so important and you want to be around the kids as much as you can."

"The problem with not playing in a bowl game is you're out on the road recruiting and the kids are back on campus. So No. 1, it gives you a chance to take the kids in your program, which is critically important."

There's also the added benefit of the extra few weeks of practice the team wouldn't otherwise get.

"The adage of the rich get richer, you become better, more fundamentals [are taught], you learn about your personnel more, maybe you move some guys around, get a head start on spring practice with the younger guys," Pasqualoni said.

And while 10-15 extra workouts in December may not mean much, remember that this group is still learning new systems on both sides of the ball and the college game is a transient one: players are around for five years at the most and there is constant turnover.

To get back to our initial point: with one game left in the regular season it's fair to say that the 2011 Huskies have been inconsistent. But there are worse fates. Like, say, the University of Maryland's program, which hired Randy Edsall away from UConn in January. The Terps, who won nine games under Ralph Friedgen a year ago, are a two-win outfit under Edsall.

After Maryland was embarrassed by NC State last week, the Washington Post's John Feinstein wasted little time getting to the point: "Randy Edsall should be fired — today."

There's more, of course:

"He doesn't get it," Feinstein continued. "He didn't get it a year ago, when he didn't have the class to tell his Connecticut players in person that he was leaving. He didn't get it when he started spouting off about rules as if he had invented the idea of discipline."

So that happened. The Courant's Jeff Jacobs cited Feinstein's comments in a column about the differences between Edsall and Pasqualoni. UConn cornerback Blidi Wreh-Wilson had little trouble contrasting the two men.

"We're expected to be more of men and be able to take care of ourselves without having a lot of people in our face all the time," he said.

The lesson: even in big-time college athletics, there's more to the games than just winning. Pasqualoni understands this. And if that means starting the season 5-6, then that's a trade-off worth making.