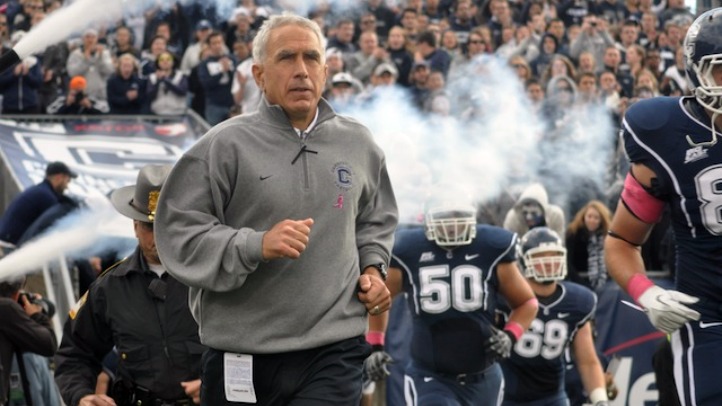 We've talked about it a lot since the Huskies' season ended last November: In his first two years, coach Paul Pasqualoni has put together back-to-back 5-7 records. By any measure, that's just not good enough, and another sub-.500 run through the schedule could mean Pasqualoni's tenure will be a short one in Storrs.

So with practice set to start Friday, and the media again not having much in the way of expectations for the Huskies (the team was No. 7 in the American Athletic Conference preseason poll), the coach understands that the time is now.

"It doesn't really matter to me where it starts," Pasqualoni said Tuesday of the team's preseason rank (via the Hartford Courant). "It only matters, obviously, as you guys know, where it ends. We use it as a source of motivation. We don't pay much attention to it. It's a non-factor to me."

Unfortunately, where it ended the previous two seasons hasn't been much better than the seventh-place finish predicted for the Huskies.

"I would say this: The way I approach it, it's very hard for me to create more urgency because each season to me is a separate entity," the coach continued. "I think from a perception standpoint of where the program is going, everyone would like to see it happen ... quickly.

"I'm a firm believer that in this game and in life, greatness doesn't happen overnight. I think for 99 percent of the population, OK, it does not happen overnight. We're trying to do this thing the right way. We haven't gone the route of 'Well, let's get a quick fix here or a quick fix there' because I don't believe in quick fixes. ... I think this past recruiting class, as they develop as college football players at UConn, they're really going to be good players -- I mean legit, big-time Division I players that you can line up against future opponents. ... Let's go play Tennessee, let's go play BYU, let's go play these teams, put your hands on them and go nose to nose. I think we're going to have guys that can do that."

And even though greatness, according to Pasqualoni, doesn't happen overnight, he knows that big-time college football is a "What have you done for me later" situation.

"I think there is a tremendous urgency to improve this year," the coach said. "I think we've got to improve things like taking care of the ball, playing smart and not giving up a play here and there at an inopportune time on defense. You know, we've been great on defense, but we've given up a play here or there. ... We haven't been good enough offensively to overcome those things."

We'll find out one way or the other starting Friday.