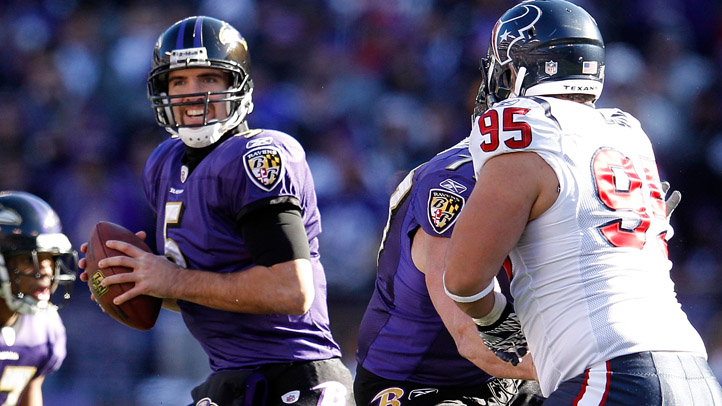 Last spring, months after the Ravens lost to the Patriots in the AFC Championship game, Joe Flacco was asked where he thought he ranked among all NFL quarterbacks.

"I think I'm the best. I don't think I'm top-five, I think I'm the best," he said at the time. "I don't think I'd be very successful at my job if I didn't feel that way. I mean, come on? That's not really too tough of a question. But that doesn't mean that things are gonna work out that way. It just means that that's the way it is, that's the way I feel it is, and that's the way I feel it should be."

The response drew plenty of laughs from fans and media, and even some Ravens' supporters had to roll their eyes because while Flacco might be one of the most physically gifted quarterbacks in the league, he has struggled with consistency. That was the case during the 2012 regular season, but once the playoffs started, Flacco has looked very much like the NFL's best passer. He's thrown for 613 yards, 5 TDs and 0 INTs in two postseason games, including the 70-yard game-tying touchdown bomb to Jacoby Jones with some 30 seconds left on the clock against Denver last Saturday. He also has 11 pass players of more than 20 yards, and five that have gone for more than 40.

None of Flacco's success has been lost on the Patriots, of course.

"He's a great quarterback, I don't care what nobody says about him. He seems to always have a good game against us," Pats nose tackle Wilfork said via ESPNBoston.com.

Flacco is 2-3 career against New England, completing 108 of 167 passes for 1,271 yards, 9 TDs and 4 INTs. And if not for a Lee Evans dropped touchdown and a Billy Cundiff honked field goal, Flacco very easily could be 3-2.

"One thing he does is stay poised, no matter how bad things get or how good things are," Wilfork continued. "He's a tough quarterback. He's a competitor and it shows. He's putting his team in some good situations, not turning the ball over much [and] when they ask him to make the plays, he makes them.

"He is a very, very tough – physically and mentally – football player. No matter how bad it gets, he seems to block everything out and plays football. It showed last week against Denver. Big arm. Throughout the course of the game, it wasn't perfect, but he made the throw and they made the catch for him. It says a lot about that football team. He's definitely one of the tougher quarterbacks in this league. He has a big heart and he plays to win."

Coach Bill Belichick was typically vague and effusive when talking about the Ravens on Wednesday.

"They've shown that they can handle difficult situations, whether it's playing on the road, or the double-overtime game last week against Denver, or whatever the challenges are, they stand up to them," he said. "They're as good as any team we've played this year, better than most, and I think that's the way it should be. …

"We're playing a team that we have a great game with earlier in the season," Belichick continued. "It came down to the last play, and we don't really expect anything much less than that this time around."