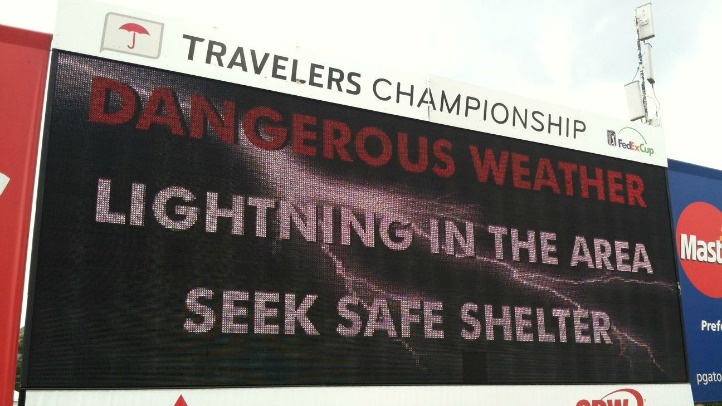 Round Two play has been suspended until Saturday at the Travelers Championship.
Rules officials sounded the horns and stopped play at 3:19 p.m. after lightning was detected in the area.
Defending Travelers Championship winner, Fredrik Jacobson, sat atop the leaderboard when play was halted on Friday afternoon.
Jacobson finished his round before the delay, shooting a 4-under par 66 in the second round, to bring his score to 9-under for the tournament.
His round on Friday began on the back nine, and included an eagle on the par-5 13th hole. Jacobson actually got to 10-under with a birdie on the 6th hole, his 15th hole of the day, but a bogey on his final hole brought him back to 9-under par. It is the same score he had after Round Two in last year's tournament.
"It's going to be tough to drive it the say I did the last two rounds last year where I didn't miss a fairway," Jacobson said. "So I'm not going to try and chase that. But yeah, (I) probably have been playing about the same as I did the first couple of days last year."
A pair of golfers were on Jacobson's heels when play was suspended for the day. Charley Hoffman was 5-under par after six holes. Hoffman is 8-under for the tournament with most of his second round still to play.
Nathan Green made it through the first nine holes of his round before the horns sounded again. He is also at 8-under par, just one shot behind Jacobson.
U.S. Open champion, Webb Simpson, also finished his round before the weather moved in, carding a 1-under par 69 in Round Two. He is four shots behind Jacobson, at 5-under par for the tournament.
Bubba Watson, who played with Simpson, shot a 1-over par 71 and sits 3-under par for his first two rounds.
Play was halted for 70 minutes earlier Friday as a small storm popped up near the TPC River Highlands in Cromwell. The golfers were allowed back out onto the course at 2 p.m., but PGA Tour officials sounded the horns again at 3:19 p.m.
The weather warning came with 77 players yet to complete or start their second rounds. The second round will resume Saturday at 7 a.m. The third round will be played in threesomes off split tees, according to PGA Tour officials.