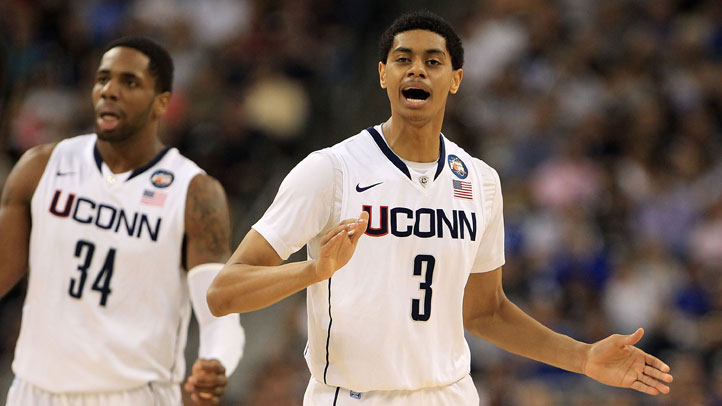 The UConn men's program is either on the verge of collapse or steady as she goes, and it sure seems like one extreme or the other. It all comes down to whether several key players stay, the coach doesn't retire, and the Huskies can avoid NCAA sanctions (including being ineligible for the 2012 NCAA Tournament) for low Academic Progress Rates (APR).
As it stands, the former appears much more likely than the latter; Alex Oriakhi seems ready to transfer, and Jeremy Lamb and Andre Drummond could be headed to the NBA. No word on Calhoun or the NCAAs, but losing three key players can set a program back years, just not as much as the potential APR fallout.

FoxCT's John Charlton grabbed interviews with Oriakhi, Lamb and Drummond and the takeaway is … well, not much. None of the three divulged anything new and in fact, Oriakhi didn't divulge anything at all, even though CBSSports.com reported, after speaking to Oriakhi, that the UConn big man had confirmed that he's transferring.

"I'll talk about it when the time's right," Oriakhi told Charlton about whether he's leaving UConn. As for right time? "I don't know but you'll know, you'll find out," he said.

Charlton asked Lamb, who was walking with Oriakhi to Gampel Pavilion to work out, about his plans.

"I'm weighing all the options, man," Lamb said, sounding like he'd already tired of a question he's likely to hear countless times until he makes a decision. When asked if people should calm down about the "are they staying or are they going?" talk, Lamb said, "Yeah, they should" before disappearing into Gampel.

In a separate interview, Charlton asked Drummond the same questions. Not surprisingly, Drummond gave the same answers.

"Who knows, I'm here now," he said on leaving for the NBA. "That's all that matters."

Does Drummond know if Oriakhi is transferring? "I don't know. I haven't really heard … (but) yeah, of course (I hope he sticks around)."

Charlton tried again to ask Drummond about leaving school and UConn big man stuck to his talking points.

"I'm not really thinking about (the NBA) right now because I'm here at UConn right now so I'm just weighing my options out and I'm a Husky as of right now. So that's all that matters."

Is Calhoun coming back?

"I'm saying he'll be here," Drummond said, but added that Calhoun's situation "will have nothing to do with my decision. I'm here as a student, as an athlete, I don't know what I'm doing as of next year. I'm here right now for this year. So that's what I'm focused on right now."

Finally, Charlton asked whether fans concerned about losing key players (and possibly a coach) is just a case of people panicking.

"I don't even know how to answer that question," he said before returning to a familiar theme. "All I know is that we're all here now and no decision has been made yet -- no official decision -- so we're all here right now so we'll figure out all that when the time comes."

To recap: Oriakhi, Lamb and Drummond either don't know what they're doing next or are still weighing their options. And we think that's fine. These are kids ages 18-21. Why would they know what they're doing for lunch, much less a year from now?
Ultimately, UConn's long-term place as one of the nation's elite programs doesn't rest with whether three-fifths the starting lineup returns in 2012-13. The much bigger concern is the looming APR issues that could keep the program out of the 2013 NCAA Tournament.