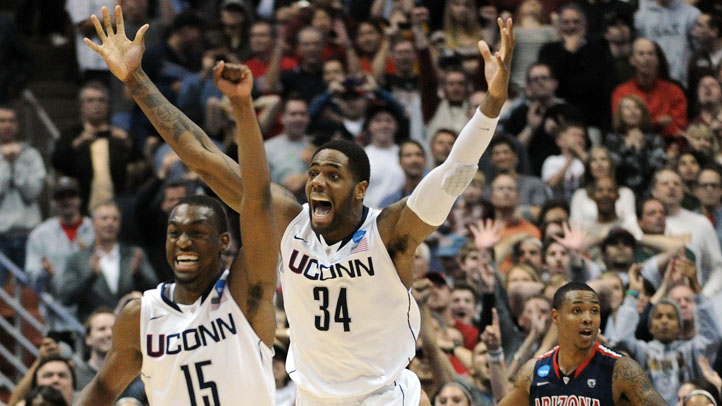 Change and rebirth are the words that best describe the current state of the men's basketball team. Jeremy Lamb and Andre Drummond could be headed for the NBA, forward Alex Oriakhi has already been granted his release, and Jim Calhoun may have coached his last game. This is a silver lining: recruit Omar Calhoun is still coming to Storrs despite the upheaval and the Huskies are going to need him. But for now, the storylines are around the names that are leaving.

While we await decisions from Lamb and Drummond, Oriakhi has moved on to the next phase of his college basketball career. And because the Huskies are currently ineligible for the 2013 NCAA Tournament, he's free to play next season without having to sit out as a transfer. Despite an off year as a junior, the 6-9, 240-pound Oriakhi appears to be in high demand.

Adam Zagoria of Zagsblog.com writes that Oriakhi "is considering visiting North Carolina, Duke, Washington and Gonzaga, a source close to the situation told SNY.tv.

"Carolina is losing frontcourt players Tyler Zeller, John Henson and Harrison Barnes to the NBA, while Duke will lose senior Miles Plumlee and possibly Mason Plumlee, a junior," Zagoria reported over the weekend. "Washington loses Darnell Grant and assistant Raphael Chillious has coached Oriakhi at various Nike events and also on a trip to Brazil before Oriakhi went to UConn. Gonzaga loses senior big man Rob Sacre."

The News & Observer's Andrew Carter writes that Oriakhi would make a lot sense for the Tar Heels, who could also lose freshman James Michael McAdoo to the NBA. ESPN recruiting analyst Dave Telep agrees, pointing out that at this time of year virtually all the top high school players have signed so it's too late for UNC to make for the losses on the recruiting trail. "Most of these guys are really far down the road with their decisions," Telep said.

Oriakhi is a defensive stopper who has plenty of room to improve on the offensive end. He was a solid player at UConn, but never someone the other team had to game-plan around. That's not to say he doesn't have value -- he clearly does as evidenced by all the interest in him now that he's a free agent -- just to point out that you don't need a team of high-scoring all-stars to be successful. Somebody has to do the dirty work on the defensive end and Oriakhi is very good at that.