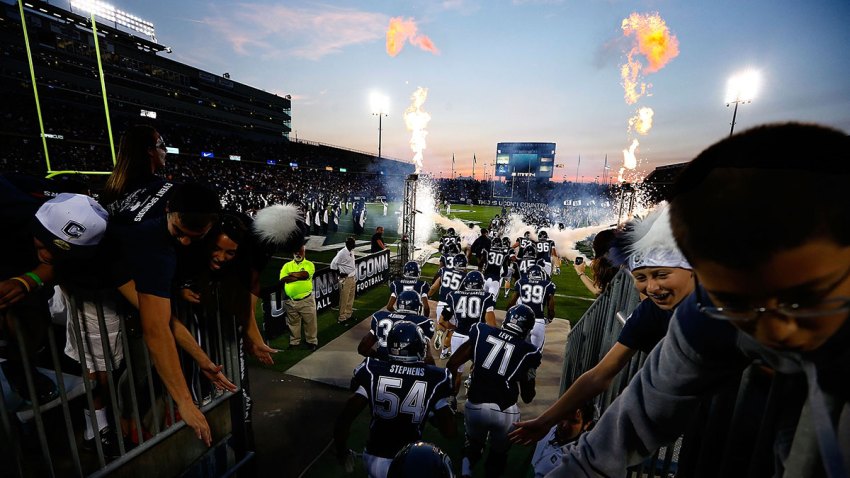 The preseason previews are already upon us. On Monday, the Tampa Bay Times previewed the new-look American Athletic Conference and here's what they said about UConn, which will be playing under first-year coach Bob Diaco.
Top priority in August: Settling on a quarterback. The Huskies used three starting QBs in 2014, with 6-foot-1, 224-pound redshirt sophomore Casey Cochran starting the last four and winning three. Cochran failed to distance himself from fellow holdovers Tim Boyle and Chandler Whitmer in UConn's spring game, and Diaco indicated last month the derby will rage on at least until mid-August.
If that sounds familiar, it should. Paul Pasqualoni couldn't find a consistent quarterback during this two-plus seasons and it eventually was his downfall.

Diaco should have better luck -- Cochran showed potential late last season and Whitmer's a good backup -- but this isn't about winning six games a season and throwing a party, it's about becoming the best team in the conference. And right now, UConn has a long way to go.

More from the Times:
One name sure to roll off Mel Kiper's tongue: CB Byron Jones, among the handful of Huskies whose position atop the depth chart is secure. A fifth-year senior, Jones' team-high three interceptions last season included picks against Michigan and UCF (he also picked Bobby Eveld). "Byron Jones is gonna be one of the best corners in America," Diaco said. "Not one of the best corners on our team, one of the best corners in the country."
One of the conference's best defenses in 2012 fell off a cliff last season, after losing three of its players to the NFL. The 2014 unit will still be a far cry from the dominating group from two years ago, but Jones could go a long way in shoring up the secondary.

The Times also identifies the loss of running back Lyle McCombs as the team's "costliest casualty," though most in and around the program feel that McCombs didn't have feature-back skills and the offense should be fine without him.

We'll know one way or another in less than three months when the Huskies open the season against BYU.