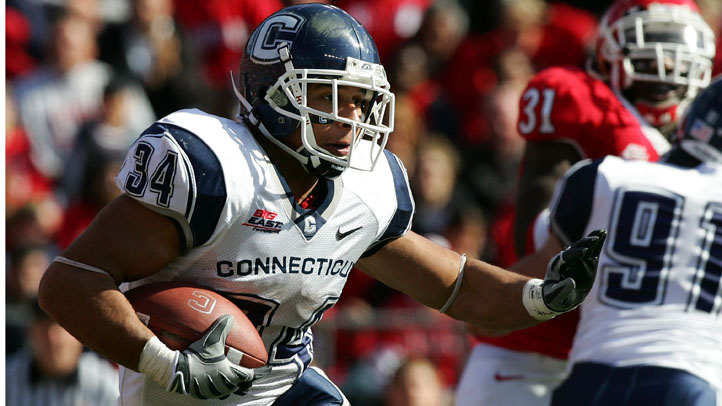 Last week, after four Huskies players were taken in the NFL Draft, including Jordan Todman, an eventual sixth-round pick thought to be a third-rounder (not to mention two other players, Scott Lutrus and Zach Hurd, who expected to hear their names called and didn't), the Connecticut Post's Kevin Duffy wrote that the previous failures of former UConn players in the NFL might have had something to do with this year's class slipping.

"Donald Brown, Darius Butler, Cody Brown and Will Beatty all came off the board in the first 64 picks," Duffy began, "marking a major step forward for a program that, prior to 2009, never had a player selected before round three.…

"Those four players, all of whom had tremendous careers in Storrs, have been 'busts' -- more or less -- in their first two years as pros. Donald Brown, the 27th overall pick in '09, hasn't shown that he's strong enough or elusive enough to warrant a first-round pick. He's rushed for just 778 yards on 3.8 yards per attempt thus far."

It's the same refrain we previously heard about University of Florida wide receivers in the NFL. Since the turn of the century, former Gators wideouts turned high-round picks include Travis Taylor (2000, 1st round), Reche Caldwell (2002, 2nd), Jabar Gaffney (2002, 2nd), Taylor Jacobs (2003, 2nd), Chad Jackson (2006, 2nd), and Percy Harvin (2009, 1st). All but Harvin were underachievers at best, busts at worst in the NFL. Whatever, the Vikings thought enough of Harvin's playmaking abilities to take him in the first round and it's been worth it for them.

Which is a long way of saying: in general, NFL teams are aware of the types of players certain programs turn out, but that's a starting point, not conclusive evidence that everyone from that school is destined for failure.

The Hartford Courant's Desmond Connor was asked about Duffy's column and came to this conclusion:

"Based on my experience covering the NFL … NFL people aren't that small. Cody Brown got selected and let go by the Arizona Cardinals. That didn't stop the Cards from taking Anthony Sherman this year did it? NFL teams select players based on their needs and whether they think that player can do the job they want done. … It doesn't matter what school they're from or how that school's previous drafted players have done (although I do think teams are a little more trusting of the traditional programs). I've just never heard or seen an NFL exec quoted anywhere saying otherwise."

There's no disputing that Donald Brown hasn't played like a first-round pick, and there's a chance Darius Butler will be battling for a roster spot this summer (pending a resolution to the lockout). But if an NFL team thought that Jordan Todman was, say, the No. 4 running back in the draft and they had a need at that position, there's a pretty good chance he would have gone off the board in Round 3, no matter where he went to college.

In the weeks leading up to the draft, the Patriots were kicking the tires on Todman. They had a need at running back, and also held six of the first 92 picks. When it was all said and done, New England took two backs in the second and third rounds, neither named Todman. They ended up with Shane Vereen (5-10, 210 pounds) and Stevan Ridley (5-11, 225), both of whom are bigger than Todman and and in the Patriots' eyes, offers them more versatility. We can't imagine that Vereen being from Cal, Ridley being from LSU and Todman being from UConn had any bearing on the outcome. As Steelers coach Mike Tomlin is fond of saying, "The tape doesn't lie." And for five and a half rounds, 31 teams didn't think Todman's skills matched up with their needs. It happens.

If anything, the Huskies should be celebrating that they regularly have players drafted, particularly when recruiting. Because, ultimately, kids who play in big-time Division I programs have aspirations of playing professionally, too. Also worth celebrating (via Wikipedia): since moving to Division I-A in 2000, Conn has been recognized as having the fastest progression out of I-AA in NCAA history. It was invited into a BCS conference only two years after becoming a full I-A member, was bowl-eligible in its first season in I-A, and was invited to a bowl game in its first season as a conference member.
The bottom line: there are any number of reasons players may or may not get drafted. In the evaluation process, it usually comes down to individual abilities, competition faced and character issues.