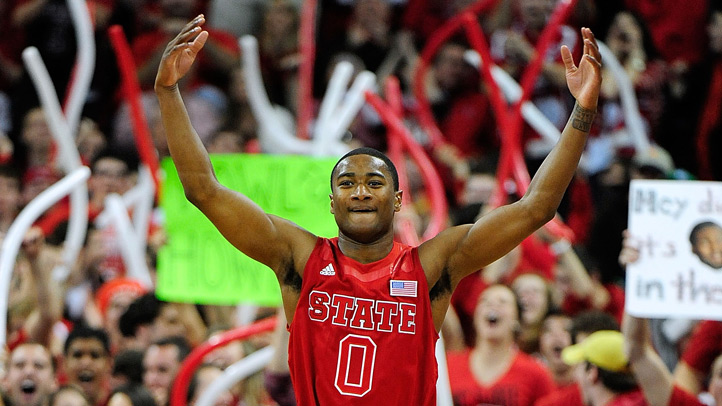 Things are coming together nicely for Kevin Ollie as he embarks on Year 2 at UConn. After an improbable 20-win season in 2012-13, Ollie has all five starters returning this fall to go along with a solid recruiting class that now includes four players.

And the 2014-15 class is shaping up to be even better. One of those commitments: guard Rodney Purvis, who transferred from NC State this spring after a solid freshman season with the Wolfpack. The Huskies were among the finalists to land Purvis coming out of high school and now, after one year, they finally have him.

While NCAA rules require Purvis to sit out the upcoming season, that doesn't mean he's left with nothing to do. In addition to school, he'll work out with the team, and he's also been invited to try out for the Under-19 US National Team.

Details via the Hartford Courant:
Florida coach Billy Donovan will be the head coach of Team USA, with Tony Bennett of Virginia and Shaka Smart of Virginia Commonwealth assisting. The player selections will be made by the 2013-2016 USA Basketball Men's Junior National Team Committee, which is chaired by Syracuse coach Jim Boeheim.

Purvis was a member of the 2012 U18 USA National Team that won the gold medal at the FIBA Americas U18 Championship and qualified the U.S. team for the FIBA U19 World Championship.
The final 12 players will be selected on June 19, with the FIBA World Championships taking place in Prague, Czech Republic from June 27-July 7.

Other invitees include: Ryan Arcidiacono (Villanova University/Langhorne, Pa.); Bryce Alford (La Cueva H.S./Albuquerque, N.M.); Brandon Ashley (University of Arizona/San Francisco, Calif.); Robert Carter (Georgia Tech/Thomasville, Ga.); Damyean Dotson (University of Oregon/Houston, Texas); Kris Dunn (Providence College/Oakdale, Conn.); Javan Felix (University of Texas/New Orleans, La.); Michael Frazier (University of Florida/Tampa, Fla.); Marcus Georges-Hunt (Georgia Tech/College Park, Ga.); Shaq Goodwin (University of Memphis/Atlanta, Ga.); Aaron Gordon (Archbishop Mitty H.S./San Jose, Calif.); Jerami Grant (Syracuse University/Bowie, Md.); Montrezl Harrell (University of Louisville/Tarboro, N.C.); Rondaé Hollis-Jefferson (Chester H.S./Chester, Pa.); Jahlil Okafor (Whitney Young H.S./Chicago, Ill.); James Robinson (University of Pittsburgh/Mitchellville, Md.); Marcus Smart (Oklahoma State University/Flower Mound, Texas); Jarnell Stokes (University of Tennessee/Memphis, Tenn.); Rasheed Sulaimon (Duke University/Houston, Texas); Devin Thomas (Wake Forest University/Harrisburg, Pa.); Mike Tobey (University of Virginia/Monroe, N.Y.); Nigel Williams-Goss (Findlay Prep/Happy Valley, Ore.); and Justise Winslow (St. Johns H.S./Houston, Texas).

The UConn women's team has three players on the U19 squad: Breanna Stewart, Moriah Jefferson and Morgan Tuck.