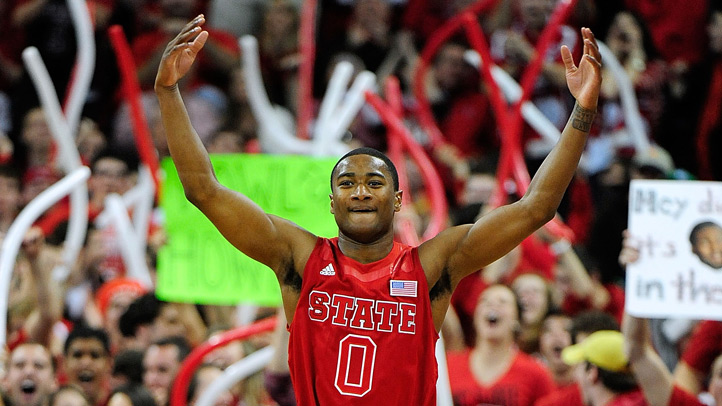 Rodney Purvis was this close to coming to UConn out of high school. Instead, he opted for the hometown NC State Wolfpack and after one season, decided that the Huskies were the better fit. So Purvis, considered one of the best high school players in the country a year ago, transferred to Storrs. He'll have to sit out the 2013-14 season, but he'll join Daniel Hamilton as part of the class of 2014. And if Purvis' first week on campus is any indication, he'll bring toughness, tenacity, and a lot of talent to Kevin Ollie's program.

"I kind of reframed everything in my mind," Purvis said Thursday, according to the Hartford Courant, after working out with teammate Ryan Boatright and assistant coach Karl Hobbs. "I was calm, relaxed. Now my whole mindset is different. I'm in the gym a lot, my mindset is to try to destroy -- I know they're my teammates, but I've got to push these guys for the season. I'm only going to be in practice, but I'm going to treat these practices like they're my games."

Purvis left NC State because "I didn't fit as far as the offense," something the coaches even conceded (though it makes you wonder why they recruited him in the first place). … "The coaches told me, 'Our offense is really for guys who catch and shoot.' I had to get somewhere where I could play my game and that's attacking, having fun, playing in transition."

Enter UConn, a program very interested in Purvis from the beginning, and not only that, one that used its guards in a way that suited Purvis' game.

(Ollie) just told me, the ball is going to be in my hands," Purvis told the Courant. "And he's got nothing to lie about. It has been proven with Boatright and Shabazz (Napier) and guys like that. I'm going to be a great teammate. I'm going to be a great cheerleader this year. I'm going to try my best to do everything right, so when it's my time I'll be ready."