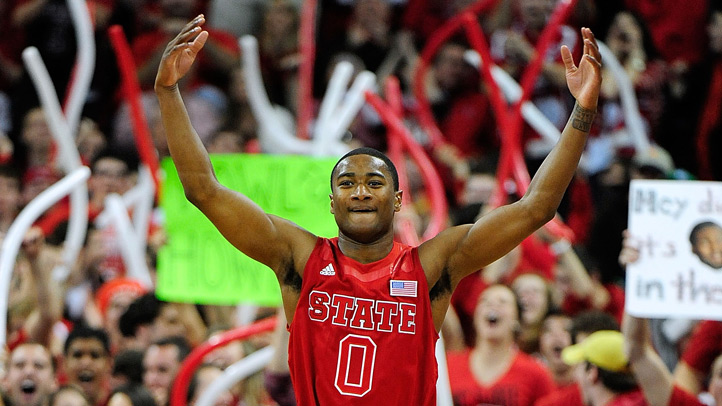 Coach Kevin Ollie is still looking for players for the 2014 recruiting class, but the two he has -- Rodney Purvis and Daniel Hamilton -- are going to be good. Purvis, who is on campus after transferring from N.C. State, but will sit out the 2013-14 season, took put in Wednesday's Husky Fun Run … and finished dead last among his new UConn teammates.

Ollie certainly noticed.

"I'm telling him: 'Rodney, you're not playing this year, but you've got to make sure you think you're playing this year, so when 2014 comes on and those curtains open, people are like, 'Man, this is a whole different guy,' Ollie said, via the New Haven Register. "That's what I want them to see. But if you wait until 2014, you'll never be that guy. That's an important message I'm giving him: You've got to play like you're starting every game. That's how you've got to prepare."

Purvis conceded that the way they do things in Storrs is a lot different than his basketball experience at N.C. State.

"I kinda feel like I'm starting back over, getting in shape and things like that. Just getting used to everything," he said. "I was never used to waking up at 8 a.m. and having to lift, then getting to class and stuff like that. I was used to lifting after I was done with classes, things like that. No excuses, I've just got to get used to everything."

"I've got to challenge myself. In practice and things like that, even the little things –- I'm in the gym just about every night, I'll grab a manager and get him to rebound –- I'm just focused on being a good teammate, getting guys better, and when it's my time to play, I'll definitely be better."

Still, Purvis says he loves being a Husky and nothing's changed from May, when he transferred to UConn and said "I'm going to be a great teammate. I'm going to be a great cheerleader this year. I'm going to try my best to do everything right, so when it's my time I'll be ready."