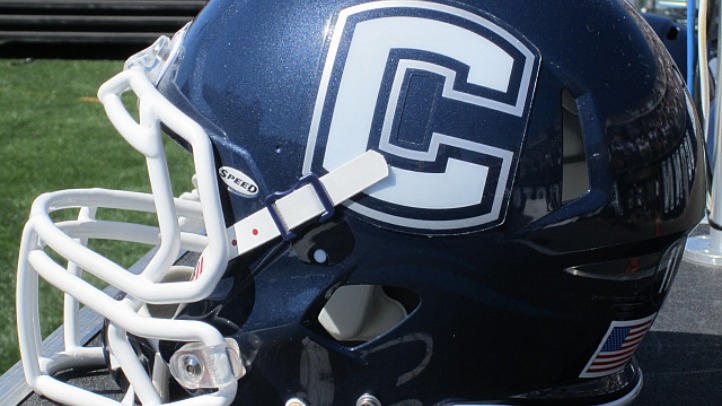 Six days and counting until the official start of UConn's football season. And while head coach Paul Pasqualoni won't name his quarterback until game day, the four-man race is already down to three.
We wrote Thursday that sophomore Michael Box appeared to be out of the running for the starting gig and today the Hartford Courant is reporting that Box will ask for his release as early as today and will transfer to a Division I-AA school.

This means that the competition is down to Johnny McEntee, Michael Nebrich and Scott McCummings, although it appears that Nebrich, a true freshman, remains the man to beat.

Box becomes the latest Huskies player to leave the program after four wide receivers left Storrs for in the last four months for more playing time. And we can't blame him; he was looking at the fourth-string job, which means absolutely no shot at playing in games and very few practice reps. It's a tough transition for a quarterback accustomed to being on the field made all the more difficult by the prospect of a freshman winning the job.

Incidentally, Box was the only quarterback with any game experience, although it was a forgettable effort last season against Louisville. The Courant's Desmond Conner writes that Box's slide down the depth chart was "a bit of a mystery."

As for Box's future, Conner writes: "[S]ources say [he] was initially considering a transfer after some of the season — and the quarterback situation — played out. But because Box wants to play right away — and the only way he can do that now is at the I-AA level — he must enroll in a school the first 12 days of the semester."

Possible destinations: Richmond, Delaware, Coastal Carolina and James Madison, all well-regarded D-IAA programs.

Transfers are as much a part of big-time college football as recruiting. Kids are brought in to vie for a handful of starting jobs, and when the roster shakes out, inevitably some of them are unhappy.
We don't begrudge Box for leaving the program, particularly if he gets a chance to play elsewhere. After all, Joe Flacco was at one time Tyler Palko's backup at Pittsburgh. Flacco left for Delaware, became the Ravens' first-round pick and is now their franchise QB. Palko, meanwhile, has bounced around the league and is trying to win a backup job with the Chiefs.