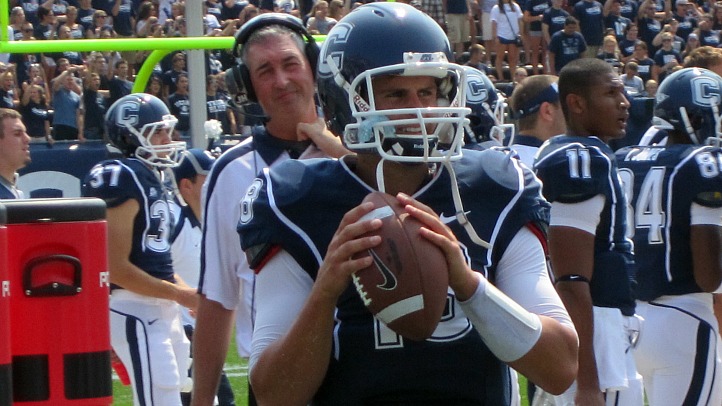 No matter who's under center, the quarterback position will be a point of contention for the rest of the season for the UConn Huskies. As promised, all three quarterbacks on the roster -- Johnny McEntee, Scott McCummings and Michael Nebrich -- played in UConn's 24-20 home loss to Iowa State, though none of them distinguished themselves as worthy of the full-time job.

Youth and inconsistency continue to be the biggest issue with this group, highlighted by the 21 incompletions they combined for against the Cyclones. The Huskies led 10-0 early in the game and the defense -- as has been the case all season -- led the way. Iowa State quarterback Steele Jantz's first pass was intercepted. The next time he dropped back he was sacked. Three more dropbacks resulted in incompletion, interception, interception. And that was all in the first quarter.

But we've seen this movie before; the defense can absolutely dominate but unless the offense can find a way to convert said domination into points, the results are going will look a lot like they did against Vanderbilt and Iowa State. That said, we all knew the QB position would involve growing pains.

"Each of them did some good things; each of them did some things they absolutely have to do better," UConn coach Paul Pasqualoni said, according to the Hartford Courant. "I think it's one more time where no one has clearly separated themselves from the pack. We still have three and they all can execute better than they did and they can help us more than they did, so that'll be a decision we make as we move forward and get ready for Buffalo."

McEntee made this third start of the season, but he's still plagued by inaccuracy and turnovers.
McCummings, a redshirt freshman, might be a run-first quarterback, but there's no excuse for missing a wide-open Ryan Griffin on what should've been an easy throw and catch for six points. Nebrich, a true freshman, has the most potential, but he's also inconsistent -- exactly what you'd expect from a kid who was in high school a year ago.

Not that it was a particularly controversial decision to stick with McEntee, Pasqualoni explained the decision nonetheless after the game.

"Being in need of just purely dropping back and throwing the ball, Johnny, in our opinion, is a little bit better," Pasqualoni said, via the Courant. "Scotty, certainly made a nice pass on the [touchdown] throw to [Kashif Moore], certainly but from a purely drop-back standpoint, Johnny is a little better and at that point we felt like … that's what we needed to do and that's the direction we went."

Despite all the offensive mistakes, the Huskies probably should've won. Sure, the interceptions didn't help, but neither did kicker Dave Teggart, one of the best special teams player in the Big East, missing two field goals.

To his credit, Teggart also made two field goals -- both from beyond 50 yards -- but he couldn't connect on attempts of 41 and 43 yards.

"I didn't really have a great game," Teggart said, via the Courant. "It was nice to make those 50-yarders, but I've got to make all of those. If I make those kicks, it could be a pretty different game. …

"Unfortunately tonight, I had a couple of chip shots -- for me -- and I let them get away," Teggart said. "I hit those two kicks and it's a different game. … I just feel as though it could have been a little more of a difference maker."

Those six points, coupled with the six UConn should've had on the McCummings-to-Griffin touchdown pass, and they roll to a relatively easy victory over a pretty good Iowa State team. Instead, the Huskies are now 1-2 as they prepare to face Buffalo.