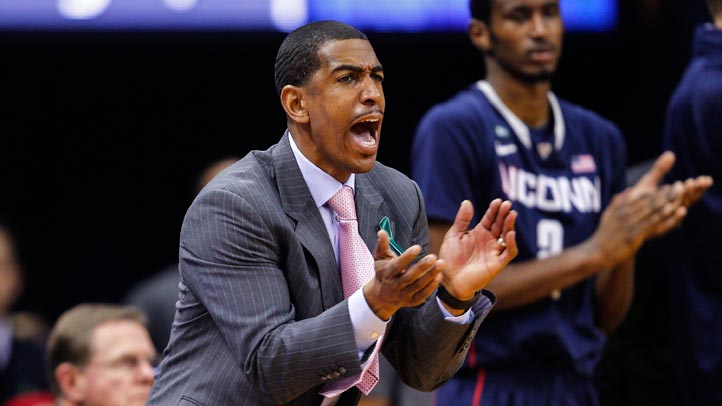 The Huskies already have Rodney Purvis and Daniel Hamilton in their 2014 recruiting class, and the hope was that Kevin Ollie could add a few more high-profile players in the coming weeks and months. One name that won't be coming to Storrs: Abdul Malik-Abu, the 6-8, 230-pound power forward who plays his high school basketball at Kimball Union Academy (NH), and ranks 44th among all rising seniors, according to ESPN.

Malik-Abu announced over the weekend that he's headed to NC State, which, along with UConn, Florida and Providence, was on his short list.

"Abdul liked N.C. State and the fact that he could come in and play right away," Expressions Elite head coach Ty Boswell told NBC Sports in late August. "He liked the overall atmosphere of the school, and he had a real good conversation with the coaching staff."

That said, the Huskies were high on the list.

"They were real close," he said via the New Haven Register. "Kevin Ollie's a great man. He might have been one of my favorite head coaches in this whole thing, if not the favorite. He's a real guy, a friendly guy, real personable. UConn was definitely a place I saw myself going to, but I was more comfortable with the decision I made. I'm grateful they were recruiting me in the first place."

Details via the Hartford Courant's Dom Amore:
UConn had been after Abu, 6-foot-8, since the spring and put a lot of effort into landing him through the summer. He made an unofficial visit to Storrs in early August. As late as Thursday, UConn still had some hope. Abu maintained secrecy until the end, putting ball caps representing his final four schools on the table in front of him before announcing his choice.

But Abu had returned for official visits to Florida and N.C. State last week, an indication he had narrowed it to two schools, and UConn did not hear from him Friday night or Saturday morning.
The Huskies still have other '14 targets, including Quentin Snider, Paul White, and Bonzie Colson. Amore writes that another recruit, 7-2 Paschal Chukwu (Fairfield Prep), chose Providence in August.