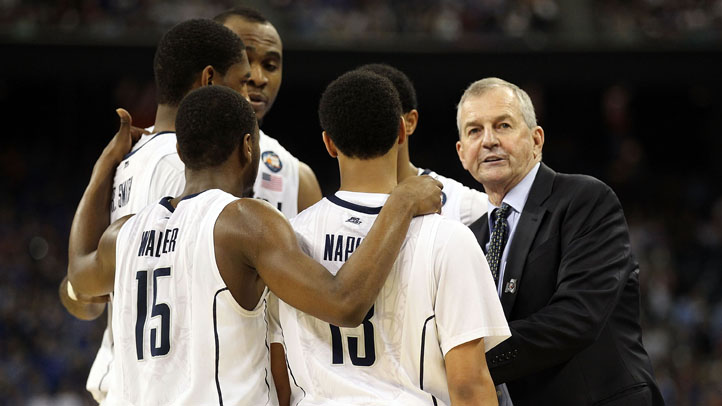 The defending national champion Huskies have just one incoming freshman for the 2011-2012 season: point guard Ryan Boatright.
Conventional wisdom suggests it would take four or five players to replace Kemba Walker, but with the late-season emergence of Jeremy Lamb and Shabazz Napier, to go along with Alex Oriakhi and a bench full of underclassmen overachievers, UConn should be competitive next season (ESPN ranks them No. 5 in their very early preseason poll). But in a year's time? Who knows. Lamb could be ready for the NBA, and depending on what type of season Oriakhi has, he could be too. And then there are the annual " will he or won't he?" questions about Jim Calhoun's retirement plans, the perpetual uncertainty of which can put off recruits.

Still, the Huskies are in the running for Andre Drummond, the best player in the 2012 class, and Omar Calhoun, the 11th-ranked shooting guard, will also visit Storrs soon. Details via the ZagsBlog:
Calhoun, a 6-foot-5 shooting guard from Christ the King who averaged 21 points this season, plans to visit UConn. "In the next week or so we will take an unofficial visit to UConn," Omar Calhoun Sr. said by text.

Calhoun's list includes UConn, North Carolina, Kentucky, Pittsburgh, Villanova, West Virginia, Georgetown, Seton Hall and Maryland. Although Calhoun Sr. said "UNC is involved," UConn appears to be the leader at this point.

"[Assistant] coach [Kevin] Ollie has done a fantastic job staying in touch with us and coming to see Omar play throughout the high school season," Omar Sr. said. "UConn is a leader for Omar's services."
It's the bit about Ollie's involvement that might be most important to UConn's long-term viability; the Huskies lost top recruiter and assistant coach Andre LaFleur to Big East rival Providence last month and there were concerns the program would suffer.

If the Huskies can come away with Drummond and Calhoun (not to mention Kris Dunn, who has also been extended a scholarship for '12-'13), the program should be in good hands, no matter who's coaching.

As for Calhoun, ESPN describes him as "a big time scorer who can beat the defense in a variety of different ways." He will also need to add weight and work on his ball-handling. Hmm. Sounds a lot like Lamb for the first two-thirds of his freshman season. That ended up working out pretty well.