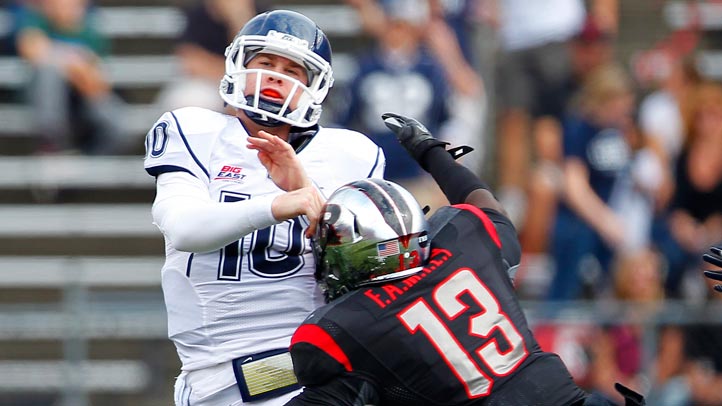 The Huskies managed three points in Saturday's uninspired loss to Rutgers, an indication that there isn't just one thing that needs fixing but myriad issues that continue to keep this team mired in mediocrity. The defense is UConn's most consistent unit and they allowed just 12 points to the Scarlet Knights (the other score was courtesy of a Chandler Whitmer pick-six). But they've also been victimized by big plays against lesser competition.

Then there's the offense, where most of the problems lie from one week to the next. Whitmer has been an upgrade at quarterback even if the numbers (58 percent completions, 4 TDs, 10 INTs, 14 sacks) don't suggest as much. Also not helping: an offensive line that struggles to protect Whitmer and open holes in the running game, and one of the team's best players getting arrested before the Huskies' biggest games of the season.

But an arm-waving Paul Pasqualoni isn't going to magically fix all this. It's a problem that has to be attacked in parts and as far as the coach is concerned, improving the red-zone offense is first on the list.

"Red zone touchdown scoring percentage is a big deal, not just red zone scoring but red zone touchdown scoring possessions," he said Sunday via the Hartford Courant's Desmond Conner. "From an offensive standpoint, you'd like to be 60 percent. I think if you looked at real good red zone teams, their touchdown scoring percentage would be 60 percent."

And Pasqualoni's not just flapping his gums. The slap-in-the-face reality is this, via Conner: the Huskies have been inside the opponents' 20-yard line on 17 occasions this season and they've scored nine touchdowns (six rushing, three passing). That 53 percent of the time. UConn's also kicked six field goals.

One of the strategies we've railed against this season is offensive coordinator George DeLeone's insistence on using the Wildcat with Scott McCummings.

We know, the idea is to create confusion on the defense but to date it hasn't worked. On a first-and-goal play against Rutgers, McCummings threw incomplete to Martin Hyppolite in the back of the end zone for what probably should've been a pretty easy pitch and catch. So what happened?

"We missed a block on kind of a blitzing No. 21 off the corner," Pasqualoni said. "Scotty had the ball. Had he had a little bit more time, he would not have thrown it where he threw it. He could have read the thing out, and I think the results would have had a chance to be different. I can't say they would have been, but a good shot of it could have been different. In that case, we missed a block. We had two guys on one guy, and he got between them and he forced him to make a hurried throw. At the end, it's little things; it's execution, it's paying attention to the small details, having poise down there and execute the assignments."

Who knows if Whitmer makes the play but our point all along has been "why not find out?" This isn't like last season when Johnny McEntee was overwhelmed and needed help. Whitmer has the makings of a good quarterback, he just needs reps. Something he can't get while standing on the sidelines while DeLeone insists on running the Wildcat with little to show for it.