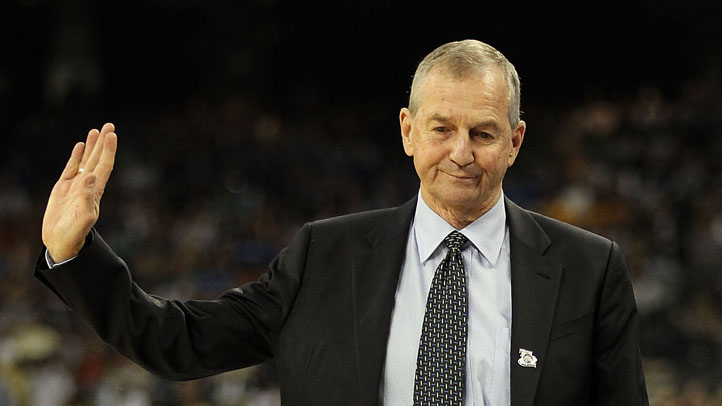 We're nearly two months removed from UConn's third national title since 1999, and the team doesn't hold its first practice for the 2011-2012 season for another four months or so. Which means we have plenty of time to contemplate the stories that might get lost in the shuffle during the season, when news is plentiful and has a short shelf life.

Plus, this will serve as a distraction, even if temporarily, from the recent headlines about player arrests (and subsequent transfers), NCAA sanctions and the inevitable questions about Jim Calhoun's future in Storrs. For this brief respite, you are welcome.

Anyway, Jeff Eisenberg of Yahoo.com's The Dagger college basketball blog writes Monday about non-league rivalries that need to be renewed. No. 4 on his list: Boston College and UConn.

The Huskies lead the series 54-35, and the teams last met in 2005, with BC winning 75-70. So what happened? Eisenberg explains:

"Boston College departing the Big East in favor of the ACC marked the death of the rivalry between New England's two most prominent schools. Angered that the Eagles weren't upfront about their intentions to leave the conference, UConn coach Jim Calhoun told the Hartford Courant in 2003 that he would not renew the rivalry, a vow he has upheld since the two schools played their last Big East game two years later. 'We won't play BC after they leave here,' Calhoun said at the time. 'I have no desire to play Boston College. Not for the fact that they are leaving but how they did it. I will not play Boston College as long as I'm here.'"

It's not like Calhoun to never forget a slight. According to the Boston Globe's Mark Blaudschun, in the early '90s then-UMass coach John Calipari once proclaimed that "We will play anyone, anywhere, anytime," presumably in an effort to get the Huskies on the schedule.

Calhoun's response at the time: "Calipari said he plays a national schedule, so obviously he doesn't need us. We play Kansas and Duke, and we think those are pretty good teams. We're happy with who we are playing now."

Blaudschun went on to point out that "early meetings were more of a New England 'family feud' thing between schools from neighboring states. … Make no mistake: Calhoun and Calipari don't chat during the off season. They are not friends now, and probably never will be. But there is no shortage of respect on either side."

As for whether the two schools might meet in the near future, Eisenberg writes that "Calhoun hasn't softened his stance on Boston College since his original vow to no longer play the Eagles. And Boston College athletic director DeFilippo also hasn't backed off his 2006 statement that 'there are no plans to play UConn in football or in basketball any time in the near future.'"