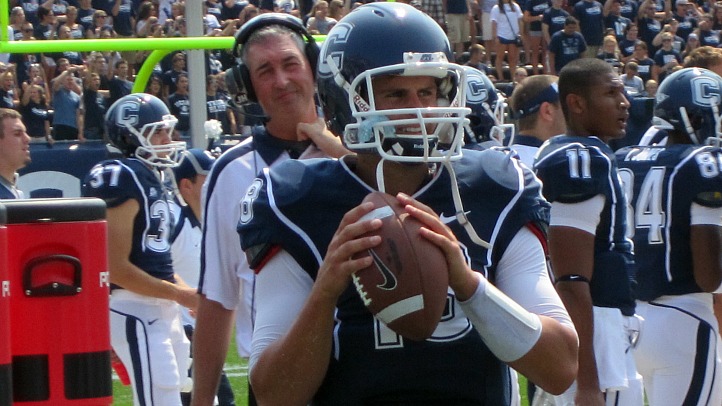 It's been an issue since Week 1 and we suspect it'll be a recurring theme for the rest of the season, too: until Johnny McEntee plays consistently, expect calls for a change at quarterback.

The former walk-on had another tough outing Wednesday, this time against Pitt. He was sacked six times, and although he didn't have any turnovers (that's progress, by the way), he still struggled with holding the ball too long in the pocket and quickly working through his progressions.

And while we chuckled at the opening line in Jeff Jacobs' column ("Relax, UConn fans. Once Dave Teggart gets the knack of the 82-yard field goal, the UConn offense will be just fine."), we'd caution against subbing McEntee for some combination of Scott McCummings and Michael Nebrich.

We mentioned this several weeks ago, when McEntee had played especially poorly and their was talk that he should be replaced: it's not clear his backups would be any better. McCummings comes in in wildcat situations now, and he's had some success, but whenever he's asked to throw the ball he's been inaccurate.

(This is where you point to McEntee being something less than a sniper with his throws. As Jacob writes: "McEntee started the first half with an 11-yard completion to Isiah Moore. He ended the first half with a 9-yard completion to Kashif Moore. In between he was 0-for-11." Yikes.)

"First half, we just didn't execute very well at all," coach Paul Pasqualoni said. "We came in at halftime and tried to settle everybody down and give them some things we thought we could execute in the second half. We told the kids there's no need for any panic. [McEntee] settled down and certainly played a little better in the second half."

Well enough, apparently, to keep his job.

"This is really the second week in a row when Scotty has gone in and clearly has been a productive part of the game for us," Pasqualoni said on a conference call Thursday. "You know, sometimes, some of that is based on how the game is going, how many points you're down, how many points you're up, that type of thing. I think if we could have kept it at a one-score game we may have seen a little bit more of Scott."

It's worth mentioning that while McEntee had two touchdown passes, one was a blown defensive assignment, and the other was in garbage time. But again: if Pasqualoni thought he had a better option on the bench, don't you think he would've gone to him by now?

Maybe Nebrich should get more looks. But if the idea is to give the reps to the guy with the best chance to succeed now -- and that guy, in the coaching staff's eyes is McEntee -- you have to stick with him.

Plus: let's not forget the defense's role in the team's current predicament. They have either been really, really good or atrocious. They've given up at least 400 passing yards three times this season, all losses. Unless McEntee can cover wide receivers or rush the passer, he's not solely to blame.

Pasqualoni was asked about the possibility that McCummings could be a starter.

"I think that there's competition," he said. "Johnny clearly is the starter and there's clearly, at every position on the football team, competition every day. What Scotty is doing is certainly productive. In the big picture Johnny handles the drop-back pass portion of it, the pro style concepts of what we're into. … Johnny still handles those things pretty well."

For now. Next year, however, that could all change when Casey Cohran enrolls.