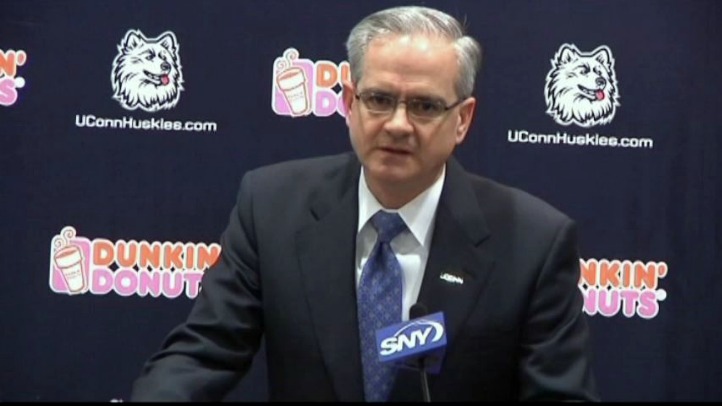 Big-time college athletics is as much about the sports and all that go into them (from the administration down to the coaches, players, and support staff) as it is about politics. And for embattled UConn athletic director Jeff Hathaway, it appears the politics have caught up to him.

TheDay.com is reporting that Friday is Hathaway's last day on the job.

The details via The Day:
The sources said Hathaway will have until the end of business today to accept a buyout plan. If Hathaway does not accept one, he will be terminated.

The sources said Hathaway has asked for $3 million plus other bonuses. It was unclear what UConn has offered. Hathaway works under a six-year contract that rolls over yearly. His base pay, according to the university, is $351,717 with another approximately $600,000 annually for speaking engagements and other duties.

Hathaway's job performance was recently subjected to a "360 evaluation" by MGT of America. The report, which the sources said reveals mostly unflattering opinions about Hathaway from more than 30 people interviewed, is due today. The sources said that university officials have discussed buyout options for a few weeks.
We mentioned previously that the university had ordered an evaluation of the athletic department, and it was basically seen as a condemnation of Hathaway's performance.

Worth pointing out: the evaluation comes after a year in which UConn sent its football team to a BCS bowl game, its baseball team to a super regional and both its basketball programs to the Final Four, with the men winning that program's third national championship.

Impressive, for sure, but this didn't help Hathaway's cause: UConn basketball coach Jim Calhoun was never a big fan.

Earlier this month, football coach Paul Pasqualoni thanked Hathaway for his support although he added, "Jeff and I have talked about (Hathaway's situation). We both agree that my job right now is the football season; his job is to be the athletic director at the University of Connecticut. I'm going to do my job, that's why I was hired. That's the most critical thing I can do. I can't be sidetracked or distracted with anything else."

And now, it seems, Hathaway's situation will no longer be a distraction.

Part of us wonders (and this is pure speculation) whether Calhoun was waiting for Hathaway to get the boot before he announced that he'd be returning to coach the basketball team. Because we all know that announcement is coming. The only question is when.