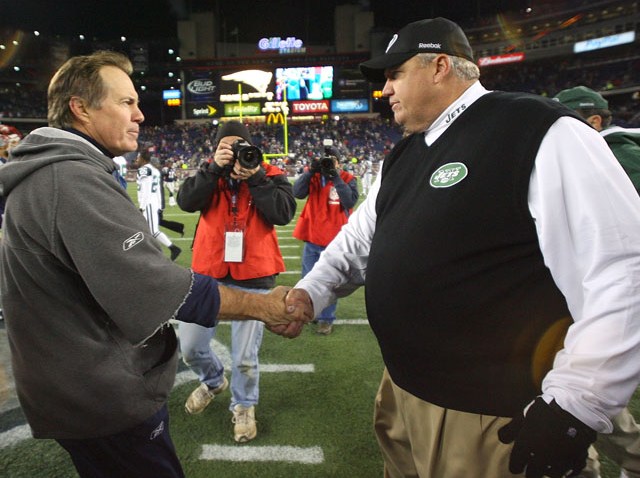 When Rex Ryan was hired as Jets coach in early 2009, he was already taking rhetorical aim at New England Patriots coach Bill Belichick. "I never came here to kiss Bill Belichick's, you know, rings," Ryan told a New York radio station at the time.
Ryan, now 19-10 in nearly two seasons as Jets head coach, no longer has to clean up his dirty jokes.
"As much as I respect and admire Bill Belichick, I came here to kick his ass," Ryan said Monday afternoon, as reported by the Boston Globe. "I do respect him and all that, absolutely. But he's the one to beat. I recognize that he's the best coach in football, and he still is. But that doesn't mean I'm not going to try to go beat him."
Belicick himself was unmoved by the verbal bait.
"That's understandable. There's no love lost between these teams," Patriots coach Bill Belichick told the Globe. "That's what we're here for. Is that a news story?"
Perhaps it's not much of a news story, come to think of it. But man, is it good entertainment when NFL coaches curse in public.
Joe Kukura is a freelance writers who also thinks it's a news story every time someone complains that Kate Gosselin is a terrible mom.
Copyright FREEL - NBC Local Media