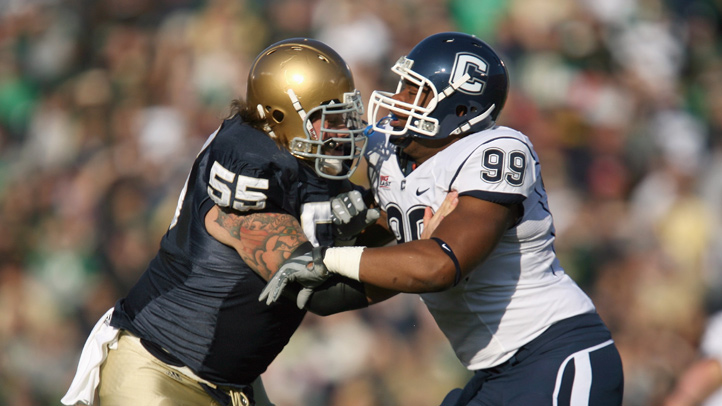 We mentioned former UConn wide receiver Kashif Moore Monday, hours after he opened a lot of eyes with an impressive combine performance that included a 4.42 40-yard time and a 43.5-inch vertical leap. His college teammate, defensive lineman Kendall Reyes, came to Indianapolis with a slightly higher profile; he had been on NFL teams' radar well before his senior season and was routinely mentioned as a possible first-round selection in the April draft.

Reyes, like Moore, didn't disappoint. And while Reyes' performance wasn't wholly unexpected, if nothing else, he confirmed what many coaches, scouts, and front-office execs had hoped to see -- and then some.

Like the sub-5.0 40 time, which left some onlookers with jaws agape. It's becoming more commonplace but still: watching a 6-4, 300-pound man traverse 40 yards in fewer than five seconds … well, it's something. More details via the Hartford Courant's Desmond Conner:

"Reyes also tied for second on the bench press snatching 225 pounds 36 times. He also tied for seventh in the vertical jump with a leap of 34.5 inches. He went 9 feet 5 inches in the Broad Jump, 7.43 seconds in the 3-cone drill and 4.53 seconds in the 20-yard shuttle."

And while the physical skills are obviously important, the interviews might be more so.

"Every meeting is different, you know? They get you up on film, basically you have to explain plays, draw them up the board, those kinds of things, tell them about yourself and all that stuff. I thought I did pretty well in the interviews," Reyes told Conner.

Sports Illustrated's Tony Pauline was impressed too. He cites Reyes as one of his combine "risers," noting that "Reyes turned in a complete combine workout and leaves Indianapolis with an elevated draft grade. … During the practice session Reyes looked incredibly quick-footed and smooth moving around the field."

Next up for Reyes: more training until UConn's pro day, then individual visits to interested NFL teams and, two months from now, the NFL Draft. So far, he's off to a good start.