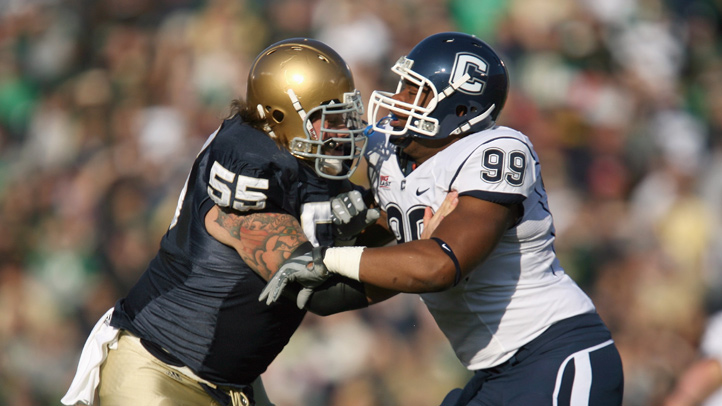 The UConn football team had the week off after beating Syracuse in the first annual Pasqualoni Bowl earlier this month. They'll face Louisville Saturday in another Big East matchup but for now we're going to look way ahead to the NFL Draft.

The NFL held a lot of promise for a handful of 2010 Huskies players, but in the 10 weeks since the season began, only Cardinals fullback Anthony Sherman has been a steady contributor.

The 2010 Big East Offensive Player of the Year Jordan Todman was cut by the Chargers a few weeks ago, and Lawrence Wilson suffered the same fate in Carolina after he was arrested for speeding and possessing marijuana.

This year's team doesn't have the playmakers as last year's squad, but defensive tackle Kendall Reyes stands out as a legit NFL prospect. He's the anchor to UConn's defense -- literally and figuratively -- wreaking havoc in the backfield routinely blowing up running and passing plays.

So what are his chances of playing on Sundays next year? Pretty good, it turns out. ESPN.com's Mel Kiper has Reyes 25th on his list of top college prospects. And ESPN's NFL Draft Blog highlights Reyes as one of a handful of players capable of making the move from 4-3 defensive tackle to 3-4 defensive end.

More NFL teams are moving away from the more traditional 4-3 looks in favor of 3-4 fronts. Reyes, it turns out, is a perfect candidate, at least according to the experts.

Details via
Reyes might end up fitting best on the inside in a four-man front, where he has the quick feet and hands to develop into an effective 3-technique (4-3 defensive tackle). He doesn't have prototypical height for a 5-technique candidate (4-3 defensive end), which raises concerns about his ability to locate the ball when locked up with NFL tackles.

However, his height shouldn't be a deal-breaker for 3-4 defenses. For starters, his upper-body strength and arm length both appear above-average. Secondly, he has lined up on the edge for the Huskies and even rushed the passer from a two-point stance. Finally, consider that Pittsburgh Steelers DE Ziggy Hood is an inch shorter than Reyes. Hood doesn't put up big numbers, but his contributions to one of the best defenses in the league validate taking him late in the first round of the 2009 draft.
Unlike, say, quarterback or wide receiver, it's not obvious if a defensive lineman fits the system. It requires much more attention to detail, which is why scouting is so important.

A lot can change between now and April, when the NFL Draft is held, but from the vantage point of November, Reyes sure seems like a top-round prospect. Of course, we thought Todman would be off the board by the third round and he lasted until the sixth. The lesson: the draft is more art than science.