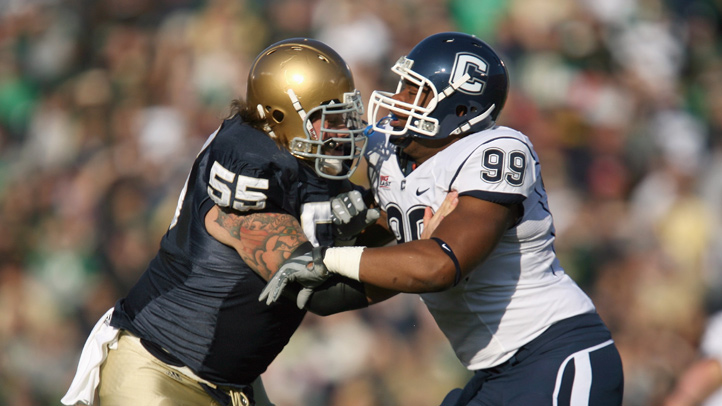 Kendall Reyes filled a glaring need for the Chargers, who selected him in the second round of the 2012 NFL Draft. And while San Diego did well to bolster a much-maligned defense with their first two picks -- rush specialist Whitney Mercilus and space-eater Reyes, it's impossible to know how well either player will perform in the coming years.

On paper, however, there isn't much to complain about. Still, the San Diego Union-Tribune's Tim Sullivan raises some concerns about Reyes, who might be too perfect away from the field. No, seriously.

Usually, red flags are raised when players can't avoid trouble during their off-time. In Reyes' case, it turns out, Sullivan wonders if the former UConn standout can go from "nice to nasty."

"If these personal qualities make Reyes a good fit among the solid citizens on the Chargers' line, they would lose their relevance if he can't play," Sullivan wrote over the weekend. The National Football League prefers mayhem to manners in its defensive linemen, and a specific skill set rather than a broad range of competence.

"The goal is not to pester the quarterback, after all, but to punish him. Where the New Orleans Saints went wrong was in creating a slush fund to reward the infliction of injuries, not for the underlying malevolence of an inherently violent game."

Sullivan is confusing Reyes, the person, from Reyes, the football player.

"With some guys, you worry about their off-the-field attitude and where their life is spent," UConn defensive coordinator Don Brown told Sullivan. "There are none of those issues here. This guy is a pleasure to be around and raises his teammates' level of play. On Monday, you don't know whether you won or lost (because) he comes back with a smile on his face."

That's not a bad thing. And neither is what Reyes brings to a defense.

"He's an athletic guy," Chargers' coach Norv Turner said. "I talked to (Buffalo defensive coordinator) Dave Wannstedt after we drafted him and he coached against him at Pitt. And it's amazing — he played end, played defensive tackle. That's really unusual."

And given that the Chargers' defense was among the worst in the league a year ago, we're guessing they can use Reyes.