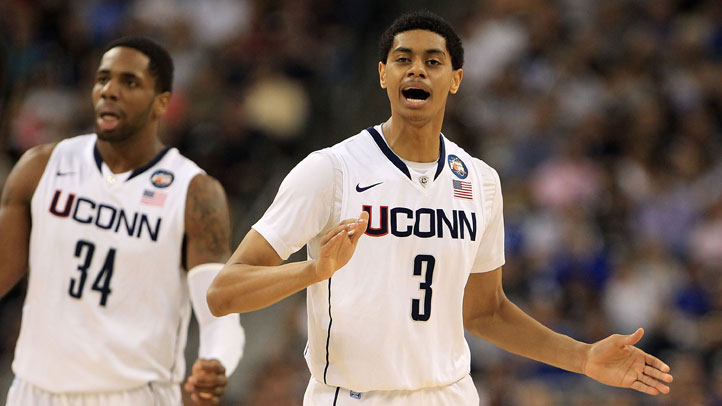 As a freshman, Jeremy Lamb was a pleasant surprise, complementing Kemba Walker nicely during the Huskies' title run. He was an All-American as a sophomore, though he couldn't do for UConn what Walker managed the year before. Still, she showed enough in two college seasons to impress NBA general managers, coaches and scouts and at the 2012 NBA Draft Thursday night, Lamb was taken 12th overall by the Houston Rockets, three picks after his former teammate Andre Drummond went to the Detroit Pistons.

ESPN analyst Chris Broussard called Lamb "very skilled, a good character guy. He'll fit in (in Houston); they need somebody on the wing who can score and I think this is a good addition because he has a lot of potential."

Broussard's colleague Jay Bilas added this: "He's listed at 6-5 and a half and that's accurate but he has a wingspan that makes him 6-11, and he's a guy that can get his own shot. He's good coming off screens, excellent at mid-range, and he's an athletic player. He can take it to the basket to dunk -- he doesn't do that as much as he pulls up -- but he's a very good shooter and has deep range. He didn't shoot as good a percentage from three this last year as I would've expected, but he's got the ability to knock down mid-range shots, he's got a quick and high release, that I think is going to translate very well into the NBA."

ESPN's Fran Fraschilla, a former coach who has been high on Lamb all spring, pointed out that the former Husky guard "shot 60 percent inside the arc, that's incredible for a guard." Fraschilla also addressed the pre-draft concerns about Lamb's laid-back demeanor. "Don't question his toughness -- last year in the NCAA Tournament, he bailed out UConn in the Arizona and Butler games. He knows how to play in big spots."

And now Lamb will be taking his talents to Houston.

For a Huskies team that struggled for much of 2011-12, it's an impressive feat to have two players taken in the top 12 picks of the NBA Draft.