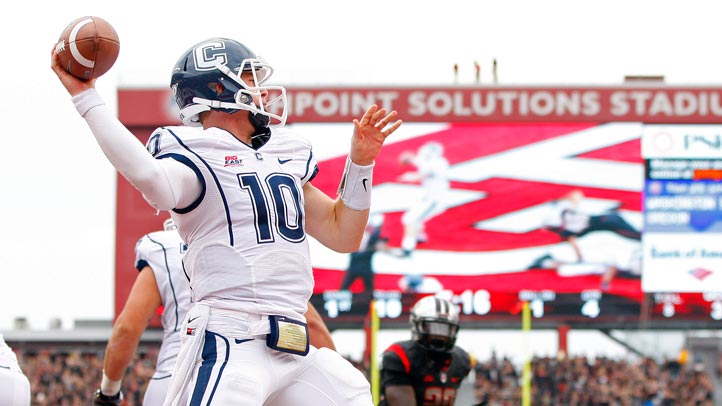 It's easy to point to quarterback Chandler Whitmer's stat line against Rutgers as the definitive reason the Huskies are now 3-3, 0-1 in the conference, and still haven't won back-to-back games since the 2010 season.

Whitmer wasn't sharp, but he also wasn't the sole reason UConn was outclassed in the second-half by the 22nd-ranked Scarlet Knights. The Huskies hung close in the first 30 minutes, and were down 13-3 with 14:45 to play after a punt backed Rutgers up to their own 1-yard line. Twelve plays, 64 yards and 7:28 game minutes later, the Scarlet Knights punted. The Huskies got the ball back with 7:17 left and their final four drives ended: turnover on downs, interception, pick-six, end of game.

"I'm sick about that (drive that started at the Rutgers' 1-yard line)," linebacker Sio Moore said via the Hartford Courant. "We should have gotten off the field a lot sooner than we did on that drive."

Generally, Moore was frustrated with another inconsistent effort.

"You want my honest opinion," he said. "I'm tired of going up and down. We're a better team than what we showcase. It's frustrating and it pisses me off. This was a winnable game, hands down. I'm just tired of it. We've got to be more consistent."

The thing is -- despite Whitmer's 14-for-32 day that included four interceptions (the last was a Hail Mary as time expired), or the defensive inconsistency that included Rutgers running back Jawan Jamison rumbling for 110 yards, Moore's right. This was a winnable game for the Huskies. It's the difference between getting yourself in the bowl conversation and being dismissed as another mid-tier FBS program.

But this isn't all about the players and execution. Some of the blame falls on the coaching staff. Here's a note we scribbled as the second quarter was winding down: "Why not use a timeout with 30-something seconds on the clock after Whitmer hit Geremy Davis on a 22-yard pass play that got the Huskies to Rutgers' 34-yard line? Instead, UConn ran another play before Rutgers called a timeout with eight seconds to go. At which point, Pasqualoni sent Chad Christen out to try a 51-yard field goal. Predictably, he missed.

"We were in good shape, there wasn't really a need to use a timeout," Pasqualoni said via the Courant. "Once it got to eight seconds we kicked a field goal. If you run the risk of trying to play there with eight seconds that's kind of the cutoff. If you do something, God forbid you get sacked, you get tackled in bounds, even though you have timeouts sometimes you can't get to them. ... You're right at the line with seven seconds and I wasn't going to risk one second. I just thought Chad, with the wind, would have a pretty good shot to make the three."

Pasqualoni wouldn't have had to "risk one second" if he had called a timeout -- one of three the Huskies had at the time -- earlier in the drive.