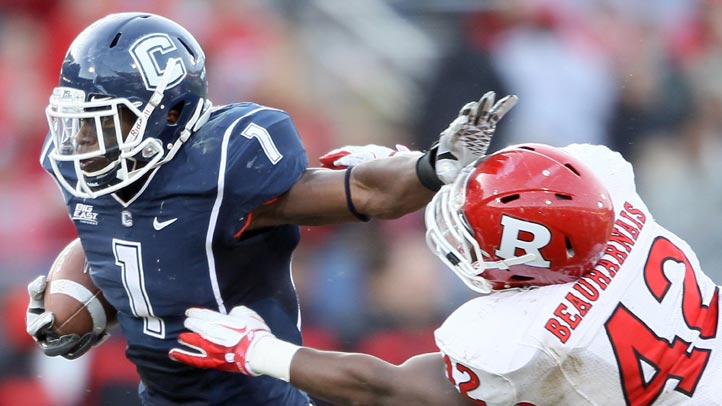 It's been 10 months since Rutgers met UConn at Rentchler Field in what should've been a late season win for the 8-3 Scarlet Knights against an overmatched 4-6 Huskies outfit in its first year under Paul Pasqualoni. But the games, as they say, aren't played on paper. By the time it was over, UConn had notched its fifth and final win of 2011, a 40-22 victory over a Rutgers team that would go on to play in the New Era Pinstripe Bowl a month later.

But this is a new season with new faces, which means that Saturday's rematch is less about revenge for Rutgers and more about, well, notching win No. 5 in 2012.

"I think what motivates our team is the opportunity to be 10 this week," Rutgers coach Kyle Flood said Monday via ESPN.com. "If you string together enough of those 10s, you have got an opportunity to play for a championship.

"So every week in the Big East conference, because we don't have a conference championship game, every week is a Big East championship game. So for us to continue moving toward our goal, our motivation is simple: We want to be 10 this week."

In terms of recent success, Rutgers football is what UConn aspires to and last year's win in East Hartford only gives this group confidence as they try to make the transition from a middle-of-the-pack conference team to a perennial bowl contender.

"It felt good last year because we had been in so many close battles with them in the years before, and they had always beaten us by three or two points here and there," UConn linebacker Jory Johnson said. "So it was good to come out and start fresh against them last year and really have that game in control the whole time. This year they're playing really well, their offense is clicking.

"It's going to be a big game, going on the road and playing in a hostile environment. But that's something that we look forward to. We're looking forward to going on the road and playing a big-time opponent, because now we can really show how good our team is."

This would be the biggest win in the Paul Pasqualoni era. It would also give UConn back-to-back wins for the first time since 2010, move them to 4-2 on the season and tied atop the conference at 1-0. That's about all you can ask for midway through the season. Now all the Huskies have to do is go out and win the toughest game on their schedule.