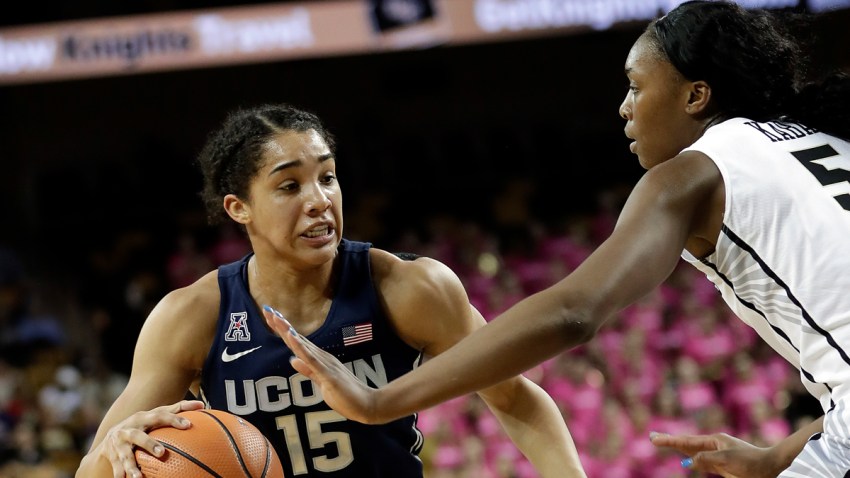 Katie Lou Samuelson scored 19 points and Azura Stevens added 12 to help No. 1 UConn beat University of Central Florida 55-37 on Wednesday night.
It was the lowest scoring effort of the season for the Huskies (23-0, 11-0 American), who came into the game averaging an NCAA best 93.1 points.
Napheesa Collier had 11 points and had 12 rebounds for the Huskies, who led by 17 at the end of the first quarter and were never seriously challenged the rest of the game.
Zakiya Saunders led UCF with 13 points and Korneila Wright added 12 for the Knights (16-8, 8-3), who outscored UConn 17-7 in the final period, but didn't get double figure scoring in any other period.
UConn jumped on UCF from the opening tip and made it a runaway by the end of the first period. Samuelson hit a pair of 3-pointers and Stevens had an easy time around the basket, making four layups as UConn led 21-4 by the end of the first quarter.
UCF tried to limit the damage by working the shot clock under 10 on every possession, but the Knights had a hard time finding anyone to pull the trigger. The Knights were just six of 25 in the first half and committed nine turnovers, including four shot-clock violations.
BIG PICTURE
UConn: The Huskies low score had as much to do with UCF's aggressive defense and deliberate offense as it did with the ineffectiveness of UConn's offense. UConn could never get the fastbreak part of its offense running and had a lot of trouble with UCF's press. The Huskies were missing point guard Crystal Dangerfield, who is dealing with shin splints.
UCF: The Knights went scoreless for the first 5:45 of the game, missing their first six shots and turning the ball over three times before Saunders ended the drought with a 15-foot jumper. The Knights trailed 21-4 at the end of the first period and never recovered.
THREE ALONE: Samuelson, UConn's leading scorer this season, was the only player on the floor to make a 3-pointer in the first half. Samuelson hit three of six from behind the arc. UCF missed all eight attempts from 3-point range.
UP NEXT:
UCONN: The Huskies head home to play Wichita State on Saturday.
UCF: The Knights travel to Philadelphia to meet Temple on Saturday.
Copyright AP - Associated Press