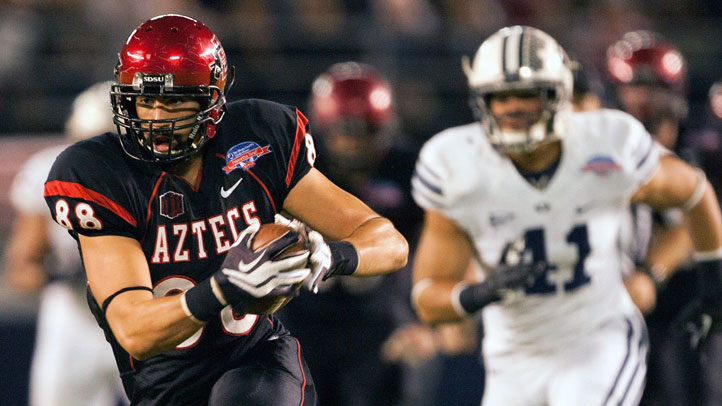 It's happened again and, frankly, we suspect it came as a surprise to exactly no one. Two weeks after Boise St. backed out of their football-only commitment to the Big East, San Diego St. did the same.

"San Diego State University and the Big East conference have the highest mutual respect and admiration for each other," San Diego St. president Elliot Hirshman said in a statement. "The university and the conference wish each other well as we proceed forward."

SDSU, like Boise St., will remain in the Mountain West Conference.

Big East commissioner Mike Aresco, as he's had to do countless time in recent months, spoke publicly about the conference's latest setback.

"On behalf of the Big East conference presidents and directors of athletics, I want to wish San Diego State the best," Aresco said. "We have enjoyed working with president Elliot Hirshman and director of athletics Jim Sterk and our membership has the highest regard for them and for their institution."

So much for westward expansion of the conference that calls itself the "Big East." In the long run, perhaps this is for the best. In the near term, however, it's the latest nail in a coffin that looks to be all but sealed. So now what? ESPN.com Big East blogger Andrea Adelson has some ideas.
What this league must do is re-focus its efforts and try to become a regionalized brand again, with Texas as its western-most boundary. Look, the Big East has already lost its battle to have a seat at the big boy table in the future playoff structure. It will not get the same TV dollars as the other big conferences. So it should come to terms with what it is -- and that is a league that has an opportunity to play its way into the national spotlight with a lineup it can help cultivate. You know, the way it did the last time expansion significantly altered membership.
The biggest difference, of course: many of the members that helped put the Big East on the map the first time around have bolted for better opportunities at bigger conferences.

Which brings us back to UConn, now the only original Big East member remaining. How the university proceeds will go a long way in determining the direction of their sports programs. Unfortunately, to a large extent, what happens next is out of UConn's hands. It's a lot of "hurry up and wait." In the meantime, the best thing the Huskies can do -- across sports -- is win.