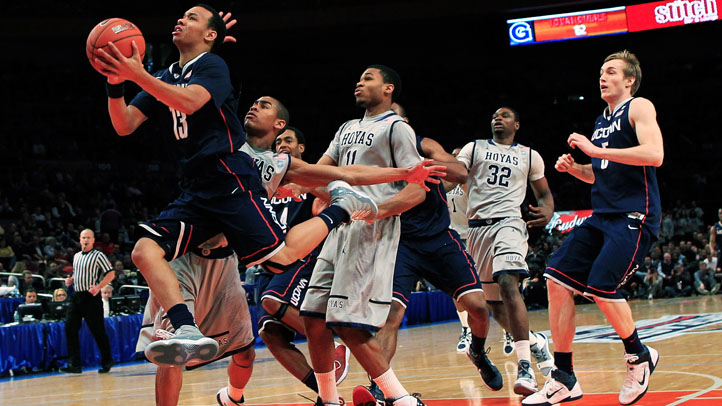 Much of the talk leading up to UConn's Final Four meeting with Kentucky has been about Kemba Walker, the coaches, and the group of freshmen that have helped both teams make it this far.

For the latter that means a lot of Jeremy Lamb and Brandon Knight, and deservedly so. But one name we haven't heard as often -- but who has been integral to his team's success the last month -- is freshman point guard Shabazz Napier. The Huskies only recruited him after Knight chose Kentucky over UConn.

After an uneven start, which just about every freshmen goes through, Napier now plays with all the confidence of a grizzled Big East vet. Exhibit A: the Huskies stumbled out of the gate against San Diego State in the Sweet 16, and then Napier came in after the first television timeout to run the point. This allowed Walker to move to shooting guard. Shortly thereafter, UConn seized control and the lead. The story repeated itself versus Arizona two days later.

Part of Napier's success has to do with his ability, but a lot of it has to do with his mental makeup. Bob Ryan of the Boston Globe sets the story up in today's column: "After watching one particularly outrageous Napier maneuver, a veteran coach of my acquaintance observed, 'That kid isn't afraid of anything, including [coach Jim] Calhoun.'"

Naturally, Ryan asked coach Calhoun about it during Thursday's press conference.

"My assistants would tell you he's not afraid of anybody except for me. Whether he is or not, you'd have to line up one hell of a dragon with fire coming out for Shabazz to even flinch. He has screwed up, looked me square in the eye and said it's his [another player's] fault.

"But you threw the ball out of bounds. 'He should have jumped higher.' You threw the ball over the backboard and we have no one who can jump over the backboard at this time. My point is he's fearless. He has a heck of a future because he has fortitude you don't find in a lot of kids."

It might sound like Napier is making excuses, but you get the sense that he really believes what he says. That player should have jumped higher. The more you listen to him the more it sounds like he has high expectations -- for himself and his teammates. And he's also willing to take responsibility for his actions. When Ryan asked him about his poor grades in high school Napier was frank.

"I should have been a better student...'' he said. "It's not that the school itself is bad. It's that there are a lot of kids who come to school and want to be clowns without realizing their future is on the line. I chose to be with the clowns.''

Now Napier is a point guard for a team two games away from a national championship. Lucky for UConn there aren't any fire-breathing dragons in this tournament.