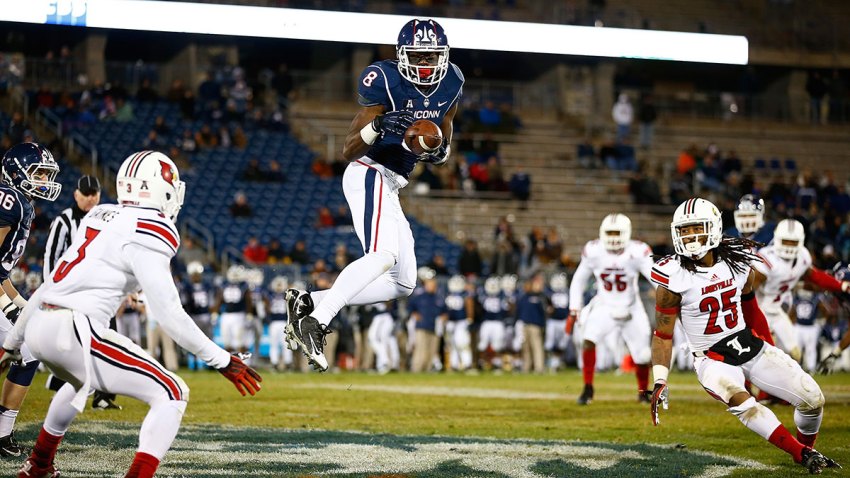 Wide receiver Shakim Phillips, who transferred to UConn three years ago after spending the 2010 season with Boston College, is leaving the program, coach Bob Diaco said Wednesday.

"Shakim is going to work through the spring and summer to get his degree and graduate. We wish him the best. Shakim is a good kid with high character," the coach said, via the Hartford Courant, though he didn't specify a reason.

Meanwhile, the Boston Herald reports that Phillips could be headed back to BC.

Phillips struggled to stay healthy during his time in Storrs, but the former four-star recruit showed glimpses of his big-play ability last season. He had 10 catches for 170 yards against Maryland, but tweaked his hamstring during the game and never seemed to return to form. For the season, Phillips had 28 receptions for 406 yards and 3 touchdowns.

Luckily, the Huskies are deep at wide receiver; senior Geremy Davis, who in 2013 became the first UConn player to have 1,000 receiving yards in a season since the school joined the FBS, returns as the No. 1 target. Senior Deshon Foxx has speed to burn and the rest of the depth chart includes junior Kamal Abrams, sophomores Noel Thomas, Brian Lemelle and Dhameer Bradley.

Meanwhile, Diaco, in his first season as coach, has already moved on from Phillips.

"We really didn't know him, didn't really have him," he said. "You can't miss something you never really had, you know? If you've never had UConn Dairy Bar ice cream, would you miss it?" he told the Courant.