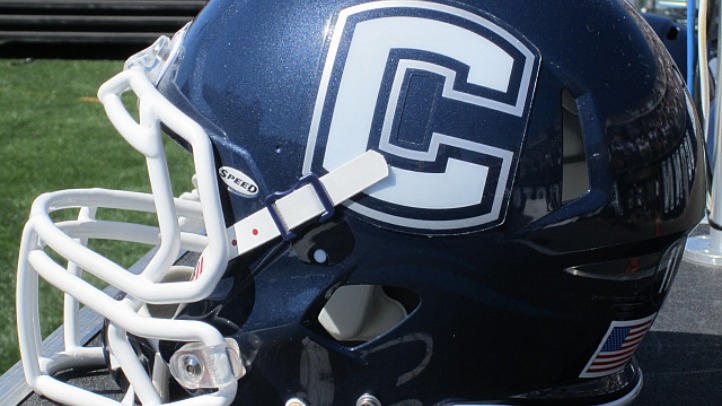 Leave it to the basketball team to distract the rest of us from the start of the football season. But in two days, the Huskies will host Fordham and we'll finally have an answer to the months-long question: So, who's the QB? (More on that later...)

But that isn't UConn's only issue heading into the season. There's also the matter of who will line up behind the yet-as-unnamed quarterback now that Jordan Todman is with the San Diego Chargers. The frontrunners to share the load this season: DJ Shoemate (5-11, 219 pounds) and Lyle McCombs (5-8, 172).

Shoemate, a senior, arrived in Storrs as a transfer -- and a fullback -- from the University of Southern California. A year ago he rushed for 115 yards on 28 carries for the Huskies and he appears over the fumbling issues that previously plagued him.

McCombs, a redshirt freshman, is more in the mold of Todman: a burner with the ability to make defenders miss.

"I guess the coaches see how we complement each other," McCombs said Tuesday, according to the Hartford Courant's Desmond Conner, when talking about sharing carries with Shoemate. "He's a different back than I am. He's a pounding back, you know what I mean? And then I come in and change the pace a little bit. I'm a little quicker, a little faster. I think they see how we complement each other."

Conner adds that UConn expects to use Jonathan Jean-Louis, too. He's a "6-2, 207-pound fifth-year senior who blends speed, shiftiness and power but has never carried the ball for the Huskies, spending most of his career on the defensive side."

Jean-Louis sounds like an intriguing conversion project, but the fact that he's third on the depth chart should also give you some indication just how thin the Huskies are at the position.

We've mentioned it before, but if there's a silver lining to the uncertainty at running back it's that a) UConn's offensive line is among the best in the Big East and b) teams don't need Heisman Trophy candidates carrying the ball to be successful. Running backs, in general, are easier to replace than other positions without much loss in production.
That's the good news. The bad news: quarterbacks are at the other end of the spectrum. On the upside: it's not like Zach Frazer was Dan Orlovsky. He was adequate but not great, so the expectations will be manageable for whoever ends up under center Thursday.