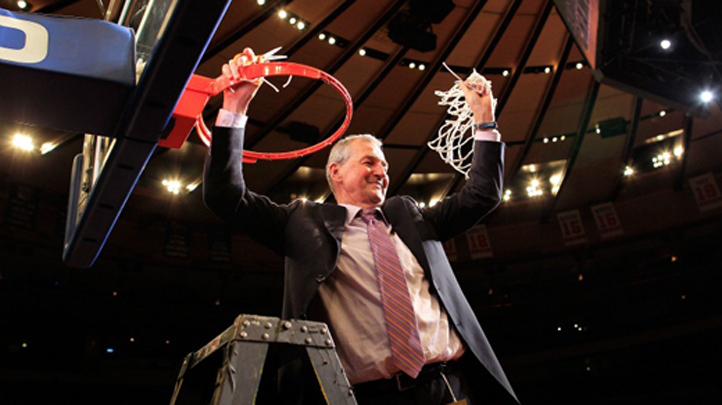 The Huskies' last-second victory over Villanova may have given them a brief respite from the NCAA Tournament bubble conversation, but it has done nothing for the state of Jim Calhoun's back. The 69-year-old coach has been on medical leave since February 3 while he battles spinal stenosis.

There's no timetable for his return, although he's scheduled to meet with doctors again Wednesday.

"We might make a decision then," Calhoun said Tuesday in a brief phone interview with the Hartford Courant. "I can't say I'm feeling a lot better, I'm still in a lot of lower back pain, but we found the problem area and we seem to be moving in the right direction."

So while we wait for the prognosis, the Courant's Dom Amore writes that "Calhoun has been watching the games on TV and, people close to him say, handling it about as well as one would imagine. Calhoun badly wants to be back coaching, pushing buttons and pulling levers."

CBSSports.com's Gregg Doyel shouts an idea most people around Storrs aren't comfortable whispering: maybe it's time for Calhoun to retire.

Part of the reason this is seldom talked about is because there was much consternation that Calhoun might do just that last summer. Most fans weren't ready to face that reality, especially after Calhoun had led an upstart Huskies team to a national title just months before.
But Doyel warns that UConn is in danger of becoming the next Florida State and Penn State -- schools that let Bobby Bowden and Joe Paterno hang around too long to the detriment of their respective programs.

"There are differences between Calhoun and Paterno/Bowden, both good and bad," Doyel wrote Tuesday. "On the positive side, although UConn is in disarray off the court, Calhoun doesn't seem to be fading as a coach. That happened in the final years of Paterno and Bowden, happened to the point that it was a running joke among, well, everyone that neither guy was actually coaching his team anymore. Calhoun's the opposite: He led the Huskies to the 2011 national championship, and this season's team (17-10, 7-8 Big East) had been dissolving in his absence until winning Monday at Villanova."

"On the negative side, Calhoun hasn't built up the decades of goodwill afforded Paterno and Bowden. Within the UConn fan base, sure, they love Calhoun. He turned a mediocre program into a three-time national champion. Beyond the program, though, Calhoun is considered a bully, a tyrant. He's one of the reasons the NCAA changed its rules about preseason exhibition games after Calhoun used them to funnel money, legally, to the AAU programs of recruiting targets Rudy Gay, Denham Brown and Brandon Bass. Last year Calhoun ran off the school's last athletics director, Jeff Hathaway."

Maybe Calhoun, who will be 70 in May, should think about retiring. Then again, as Doyel points out, his team isn't suffering because of his presence, they're suffering because of his absence.
The reality is this: there are plenty of off-court issues that Calhoun could have handled better, starting with the APR mess. But when it comes to coaching, and getting the most out of his players, few are better than he is. Which is why the Huskies need him back on the bench sooner rather than later. And if history is any guide, we're guessing there will be a later.