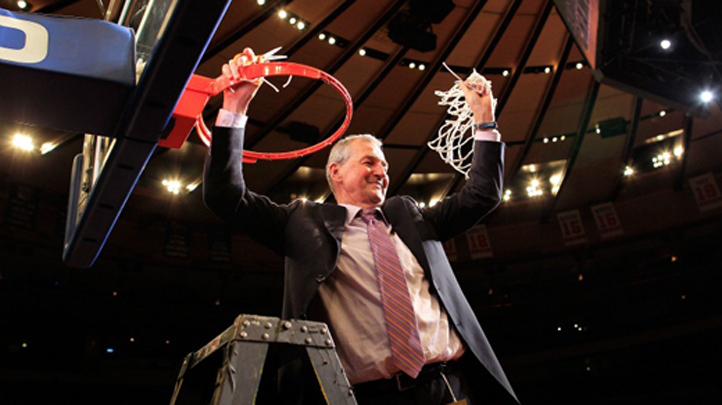 Back in October, several months removed from the NCAA sanctioning the Huskies men's basketball team for chronically low APR scores, there was some confusion as to whether UConn would be able eligible to defend its 2011 national title. Turns out, they're in no danger of missing the NCAA tournament (aside from poor play, which is the team's biggest issue currently).

The 2012-13 season is a different story, however. New NCAA regulations to improve academic performance go in to effect in 2013 and given the Huskies' consistently low APR score over a previous four-year period, there is the very real possibility that UConn would be ineligible for tournament play.

This explains the university's decision to submit suggested punishments to the NCAA first, effectively beating them to the punch in the hopes that the men's team will be permitted to take part in next year's tournament.

As noted by the Hartford Courant's Dom Amore, the self-imposed penalties include:
* Forfeiting its share of revenue generated by Big East schools participating in the 2013 NCAA Tournament.

* Eliminating exhibition games and instead spending that time in study hall.

* Reducing the number of regular season games in 2012-13. UConn would schedule 23 games plus one exempt tournament (in this case, the three-game Paradise Jam) and therefore play 26 games. Under normal NCAA rules, UConn would be able to play 27 games plus the three-game tournament (30 games). The school is proposing a reduction of four regular-season games. That time not playing basketball, three hours a game, would also be spent on academics.

* Barring coach Jim Calhoun from making off-campus visits to recruits during the autumn contact period.

* Have Calhoun bring a current or former NBA player who has completed his undergraduate degree to inner-city schools for a series of sessions to stress the importance of academics.
Upon first glance, this may seem like a last-ditch effort to save the program from the embarrassment of sitting out the sport's biggest tournament because of lingering academic issues. And while it took awhile for the administration to notice, there have been changes in the men's program designed to improve the academic standing. The next APR is expected to be well clear of the 900 minimum, and as Amore notes, there are now expectations for a team that had few just several years ago.

"Over the past year, UConn has implemented several changes," writes Amore. "A full-time academic adviser, Felicia Crump, has been hired for men's basketball. Players are required to take classes over the summer and in the 'inter-session' period in January. Calhoun benched forward Roscoe Smith for a game in November for 'violating a team commitment,' believed to be missing classes. Recently, when Enosch Wolf missed two final exams because of a concussion, he was not allowed to dress or travel with the team until those exams were made up and the grades posted. He missed two games."

So do the Huskies deserve to be punished? Technically, they've already been docked two scholarships. And the four-year body of APR scores that are under consideration don't include the most recent scores. If they did, UConn wouldn't have anything to worry about.

"That (option) is still on the table," said chairman of the committee, University of Hartford President Walter Harrison. "The issues would be the logistics, and whether members of the committee would approve of the change. And it would then, I believe, have to be accepted by the full board."

This sounds like a lot of political posturing, which probably isn't too far off the mark.

"It is unfortunate that our current men's basketball student-athletes could be punished for the problematic academic performance of other students, students who have not been enrolled at UConn for over two years," UConn president Susan Herbst said. "That decision would be unfair to innocent young people, which is baffling to us. Regulatory bodies should not change rules retroactively."

Herbst makes an important point. Unfortunately, all the Huskies can do is hope things work out in their favor.