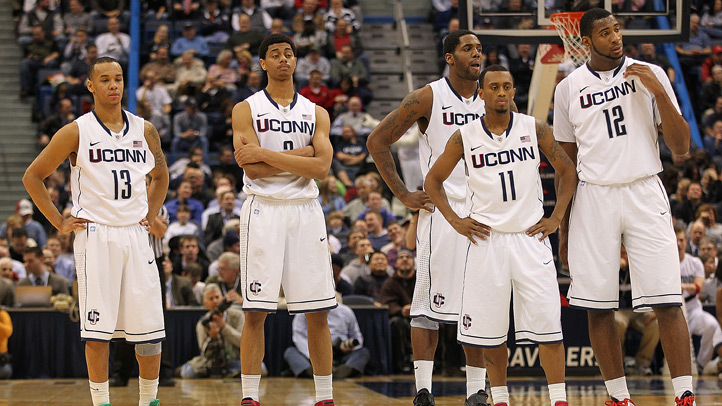 Andre Drummond becomes the first one-and-done player during Jim Calhoun's tenure but with his official announcement set for Friday the 13th, the critics have emerged to question everything from his anemic free-throw percentage to whether the Huskies should have even recruited him last summer.

Here's the Hartford Courant's Jeff Jacobs on Thursday:

"Drummond pushed Alex Oriakhi out of the center position, yet he failed to do a reliable job against top competition. Moved to power forward, Oriakhi had an awful season. Oriakhi not only lost minutes and struggled on the court but also his entire karma seemed to go bad. The sounds of Jim Calhoun berating Oriakhi in the NCAA Tournament loss against Iowa State were the final, ugly utterances of disappointment. With a chance to transfer and still playing next season because of UConn's tournament ban, Oriakhi did so. Also in the chain reaction of that positional switch, Roscoe Smith spent far too much time on the bench through the first two-thirds of the season. It all added up to lousy frontcourt chemistry."

First, to answer Jacobs' original question: yes, unequivocally, the Huskies were right to pursue Drummond. He was the nation's most sought-after recruit with the physical attributes to absolutely dominate the paint and change games. He's also 18 and extremely raw -- two facts that coaches and scouts were aware of before Drummond ever played in college. But the upside was way up; there isn't a coach in America who wouldn't have gladly welcomed Drummond to their program.

Put another way: if the argument of passing on Drummond is that it will keep Alex Oriakhi happy then you've got bigger issues as a coach and a recruiter. Let's not rewrite history; Oriakhi was inconsistent as a sophomore when he shared the frontcourt with Charles Okwandu and Tyler Olander. It's not like Drummond's presence morphed Oriakhi from dominating enforcer to a sixth-man afterthought.
If Oriakhi felt the wrath of a Calhoun tirade after the Iowa State game that's on -- wait for it -- Oriakhi. It's well within his rights to transfer because of the impending NCAA sanctions facing UConn or because he just wants to leave the program. But it's a stretch to suggest that the Huskies would have been better off without Drummond because it's just not true.