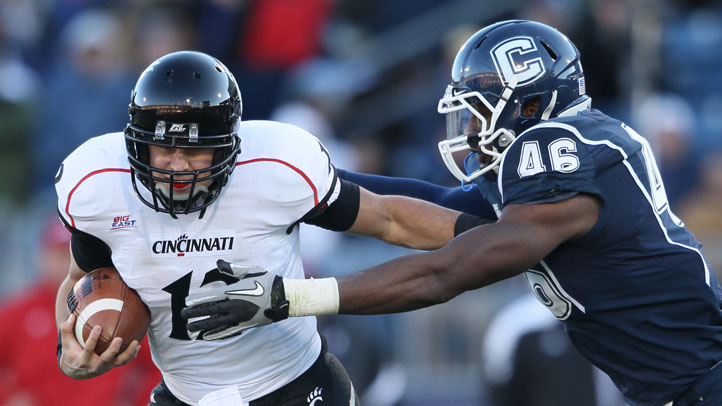 A month ago, we wondered by Sio Moore, one of the best players on UConn's dominant defense, hadn't earned a Senior Bowl invite. He eventually found his way to Mobile, Ala. as Trevardo Williams' replacement and Sio ended up showing NFL scouts and coaches what the rest of us already knew: he can play.

"I like the combination of heavy production at a BCS school, a great week of practice and following it up with a solid game," NFL Network draft analyst Mike Mayock said during Moore's four-tackle effort in the Senior Bowl. "I think as this process goes on you are going to see this guy start to rise, and I wouldn't be surprised at all if at the end of April he doesn't end up in the third round."

Now Moore will try to impress many of these same talent evaluators at the NFL Combine, which begins Wednesday. And he won't be just another body looking to make a difference. At least one evaluator lists him as one of the top-5 players at his position. NFL Network's Bucky Brooks released his list of top prospects earlier this week and he has Moore as the No. 5 outside linebacker entering the combine behind Jarvis Jones, Georgia; Alec Ogletree, Georgia; Khaseem Greene, Rutgers; and Arthur Brown, Kansas State.

Here's what Brooks writes about each player:
The job description for outside linebackers has certainly changed in recent years, with the proliferation of the 3-4 and the use of exotic sub-packages on passing downs becoming increasingly popular with defensive coordinators. Teams want outside linebackers with rush skills and run-and-chase ability.

Jones is a dynamic playmaker off the edge with the speed and quickness to create chaos. He totaled 26.5 sacks in two seasons in the SEC, displaying the kinds of game-changing skills routinely associated with top-five talents. Moore has flown under the radar for most of the season, but his spectacular play at the East-West Shrine Game and the Senior Bowl has scouts intrigued about his disruptive potential at the next level.
Moore won't be the only Husky in Indy this week. Williams, Dwayne Gratz and Blidi Wreh-Wilson will also be there.