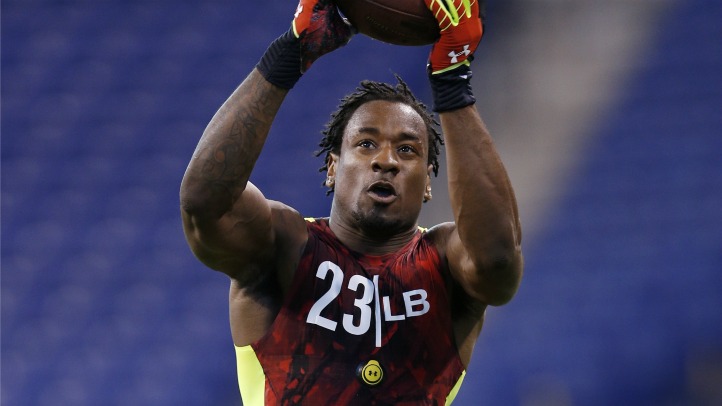 Sio Moore was one of the Huskies' best players a season ago. But his performances were often overshadowed by Trevardo Williams' ability to get to the quarterback, or Dwayne Gratz and Blidi Wreh-Wilson's dominance in the secondary. The flying under the radar continued after the season, during pre-draft preparations. In fact, Moore wasn't originally invited to the Senior Bowl, but once he got there he opened some eyes.

A solid Pro Day workout followed by individual team workouts solidified his place as one of the draft's best inside linebackers, and the Raiders ended up taking him in the third round.

And now, four months later, he's atop the depth chart, penciled in as a starter with the regular season less than a month away. Details via CSNBayArea.com's Scott Bair.

"The Raiders thought highly of linebacker Sio Moore, and this depth chart proves it. The third-round pick is only rookie slated to start, although he practice reps projected that. Moore has been consistent in the early portion of camp, the finest SAM linebacker on the roster."

In an interview Silver & Black Pride at the start of training camp, Moore sounded like this moment wasn't too big for him.

"If you're in the NFL and have an opportunity to play, there should be an urgency and an expectation you should have on yourself as well as the guys around you," he said. "The biggest thing with me, I don't feel pressure, we got a great group of guys, senior guys, we got C-Wood (Charles Woodson), Tyvon (Branch), Kevin (Burnett) ... you go down the list. There's a bunch of veteran guys around and they're on me about just continuing to work and to keep building on each play. As long as I take it upon myself to get better every day, everything is going to work out for itself." Former UConn wideout Kashif Moore, now trying to make the Steelers roster, spoke about his college teammates now rookies in the NFL.

"I'm just so excited for those guys," Moore said. "I knew when they came to UConn they were going to be a force to be reckoned with. I just feel like they have a great opportunity. I know Sio is working with the (Raiders') first team, and all those guys are going to get an opportunity to play early. I know they're pretty excited for that."