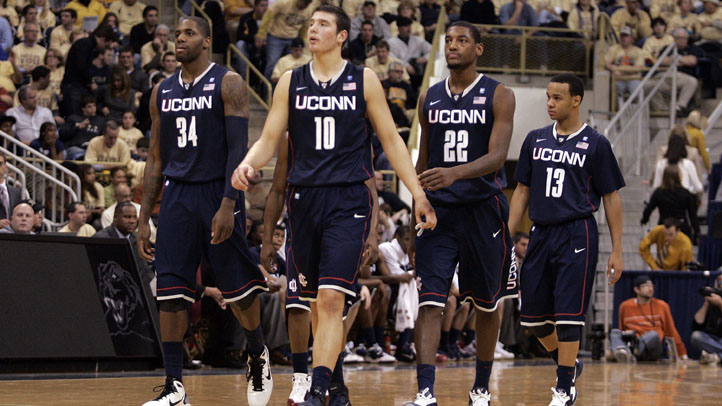 The Greater Hartford Pro-Am kicked off Wednesday night, it's 14th year in existence, and organizer and league founder Peter Higgins summed up exactly what it all means. "This is how to get this started, with some national champs," he said, according to the Hartford Courant's Mike Anthony.

Rising UConn sophomores Roscoe Smith and Tyler Olander were on hand and Smith is up to 218 pounds (he was at 192 as an incoming freshman and 206 in April).

"I feel good, too," Smith said before playing with Olander on the Doc Hurley All-Stars.

Like most freshman, Smith was inconsistent at times last season, but was often the most athletic guy on the court. He was also one of six freshmen who regularly contributed and played a vital role in the Huskies' championship run. This fall, he'll join Jeremy Lamb and freshman DeAndre Daniels on the wing and he's looking forward to it.

"It's going to be interesting to see a freshmen thrown into the fire a little bit," Smith said of Daniels. "He fits well with the team. ... We're still a young team. We all have a lot to learn and a lot of work to do."

Olander, who appeared in 39 games as last season and started often, talked about what it was it was like to play limited minutes as a freshman.

"There were times when I was very frustrated," he said. "Things weren't always going how I wanted them to and I got a little down at times. But I know how Coach [Jim] Calhoun is, I know he knows what he's doing, and I'm looking forward to showing this [coming] season that I'm the type of player who could earn more and more minutes."

This assumes, of course, that Calhoun is coming back (we've been convinced that he is for weeks now).
Olander, like everyone else half-paying attention to UConn's program, understands that 2011-12 is a big season for the Huskies, especially since they will be without Kemba Walker.

"This is an important year for [the frontcourt]," Olander said. "Especially for Alex [Oriakhi]. He could have a really big year. Last year, everybody said the team's weakness was our frontcourt. So we want to turn that into a strength this season."

The Courant's Mike Anthony writes that in the past the Pro-Am has served as the unofficial welcome wagon for new players. "For instance, the Pro-Am is where Kemba Walker and Shabazz Napier first worked together in the backcourt," he noted.

Higgins added: "The UConn guys come in and have to go against all the 'shoulda-and-coulda been on TV' guys. They have to fight through the trenches."

It's not the Big East but it's competition. And that's always a good thing.