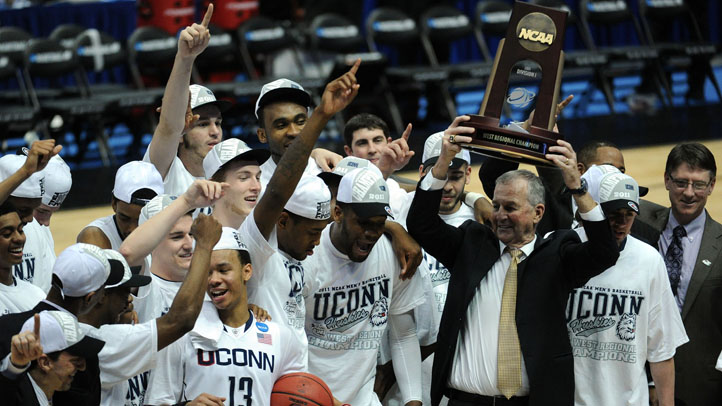 Other than actually winning a national championship, the past few days have been some of the best in recent memory for the UConn basketball team and its fans. This is what happens when you land the top big man in the country, Andre Drummond, a year before you thought possible, and team him with Jeremy Lamb, Alex Oriakhi, Roscoe Smith, Shabazz Napier and two big-name freshmen for 2011-12.

But what exactly are the Huskies getting in the 6-10, 275-pound Drummond? The ESPN recruiting profile, last updated in May, pretty much says it all in the very first sentence: "Where to start? Few players in America (pro or college) have combination of size, athletic ability and skill that he possesses."
And from there it only gets better (or worse, depending on your perspective, team affiliation, etc…). "Anything around the rim he catches and dunks, often times while getting fouled by two or more people. He has a hook and is comfortable near the basket with either hand. He can face and is not only a threat to shoot but he can drive with authority. Anywhere on the floor he's an adept passer which speaks to his basketball IQ."

Okay, we were excited before reading that. Now we're giddy.

Jere Quinn, who coached Drummond the past two years St. Thomas More, where he averaged 15 points and 11 rebounds, was just as laudatory in his evaluation. "His potential is unlimited," Quinn said, according to the Hartford Courant's Jeff Jacobs. "His athleticism, his ability to react, and he passes the ball extremely well for a big kid," Quinn said when describing Drummond's best attributes. "He has instincts. He has great sportsmanship. He has integrity."

But that doesn't mean he's infallible. Drummond does have flaws, even if you have to search for them. "In college, he just has to recognize you cannot take a play off," Quinn said. "And then, of course, he has to improve his foul shooting."

Every player entering college should have such problems. Jacobs writes that Drummond reminds folks of Shawn Kemp, Amare Stoudemire and Dwight Howard rolled into one. Jim Calhoun will probably be able to overlook the fact that he's not the best free-throw shooter on the team if he truly is an amalgamation of some of the best big men in recent NBA history.

Last week, we wrote that the Huskies lost out on recruit Kris Dunn who ended up at Providence. UConn had decided to focus their efforts on big men, including Drummond, and, well, it couldn't have worked out better.