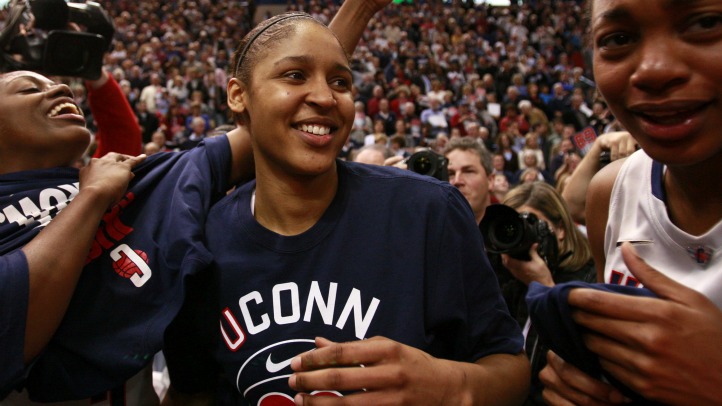 College rosters are perpetually in flux. Players leave early, transfer or graduate, and recruits replace them. It happens every year, and the constant turnover is part of what makes college sports exciting.

With that theme in mind, some news on the UConn women's basketball front that includes former great players and the impossibly bright futures of those who will replace them.

First up, Maya Moore, who won every conceivable award while at UConn, and made her professional debut with the Minnesota Lynx Tuesday in a 71-66 preseason win over the Atlanta Dream. She talked about her performance, a four-point, five-rebound effort in 22 minutes of action, after the game.

"Not exactly what I wanted, but I thought we made a little bit of progress from some of the initial jitters, working into the flow of this level, just working those things out. I don't like to necessarily base my performance on points, because like Coach was saying, there's a lot of ways you can impact the game, so that's what I try to do. I try to get some assists, get some rebounds, force some tough shots. Overall, I thought I filled the stat sheet a little bit in certain areas, but I'm definitely not satisfied with where I am. I want to keep getting better and keep getting more consistent and staying out of foul trouble too."

When asked about the last time she scored just four points, Moore said, "I don't remember. I never plan on having four points, so I don't know necessarily what I'm going to do anything differently besides just continue to listen to the coaching staff and keep being aggressive and taking my time as well. As long as I'm getting good looks... sometimes the ball doesn't go in."

Well, our crack team of researchers (me and Mr. Google) found the answer. Moore scored fewer than 10 points in her career five times, and managed just four points (a career low) against Marquette her junior season.

Looking to the future, 2012 recruit Moriah Jefferson is in the midst of US National Team tryouts, and she's hoping to make the under-19 squad after getting cut in 2009 (under-16s) and 2010 (under-17s).

As for her mindset, Jefferson sounds about like you'd expect an Auriemma recruit would. "It fuels me knowing I didn't make [the team the last two times]. When you come out for something like this, you want to make it. Honestly, I give my best, 110 percent, every time I get on the court. Being cut hasn't really changed anything about me, it just makes me go a little harder."