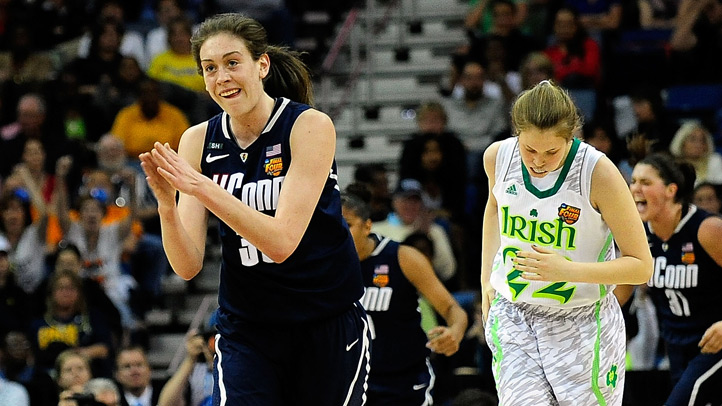 It's go time.

Most programs wait a lifetime for a shot at a national title, but the three years between visits to the championship game for UConn seems plenty long enough. The last time the Huskies found themselves playing for it all, Kelly Faris was a freshman. Now a senior and a team leader, Faris hopes for one more shot at glory in what will be her last college game.

And while much of UConn's success this season can be traced back to all the little things Faris does well, the key to Tuesday night's matchup with upstart Louisville will come down to Breanna Stewart. The freshman carried her teammates to the finals after dropping 29 points on Notre Dame Sunday night, UConn's first victory of the year against the Irish.

But can Stewart maintain her level of play for 40 more minutes? It's a fair question to ask because a) freshman, even the best in the country, are notoriously inconsistent, and b) she hit a rough patch in the middle of the season where she struggled with her confidence.

Coach Geno Auriemma knows Stewart and seems unconcerned that she'll be anything other than what we've seen the last seven games -- all in the postseason -- when she's averaged more than 17 points.

"Stewie probably puts as much pressure on herself as any kid I've ever coached," Auriemma said after the win over Notre Dame. "And when she wasn't playing well, she really took it hard, and couldn't let go of it. And then, I think when the (regular) season ended, it just kind of let the air out of the balloon and she said 'Now I just want to play basketball.' My gosh, she was amazing tonight."

And more than just amazing, maybe even the best ever.

"Given the stage, and what was at stake, I don't know that I've seen any [performance] way bigger," Auriemma said via the Hartford Courant. " I know there's been NCAA Tournament games where we've had certain individuals play great, great, great games. But I don't remember a player having a better game in this environment, and certainly I've never seen a freshman have a game like this in this environment.

"I remember Kara Wolters' semifinal game against Stanford in 1995 where she had 31. That was pretty amazing. She was a sophomore then and it was incredible.

"And Stewie made a lot of free throws after she got banged around with her shoulder. She's just one of these unique kids that doesn't take herself too seriously, doesn't demand a lot of attention. And I hope she's got another one left in her Tuesday night."

And so does Kelly Faris, who'd like to leave with two titles in four years. Fun starts Tuesday night at 8:30 p.m.