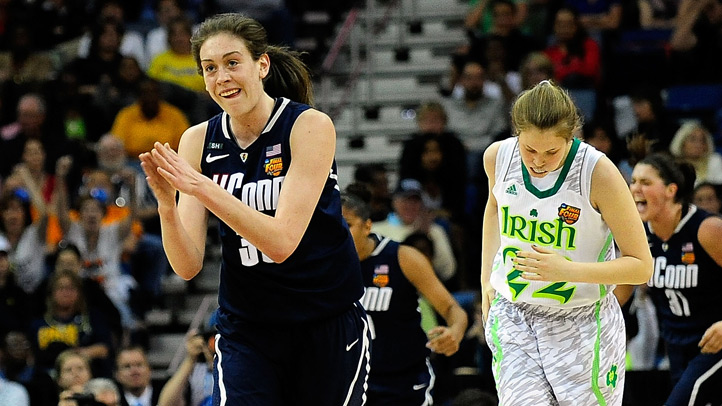 Because one title isn't enough, several members of the UConn women's national championship team spent part of their summer representing the United States in the FIBA U-19 world championships and, not surprisingly, won the gold medal.

Why is it not surprising? Because this makes the fifth straight gold medal for the U.S. squad, this time a 61-28 win over outmatched France. Breanna Stewart, who wrapped up her freshman season with Most Outstanding Player honors in the Final Four of the NCAA Tournament, played like the most outstanding player in the FIBA championships, too. She scored 16 points, pulled nine rebounds and added three blocks against France and -- you guessed it -- earned tournament MVP honors.

"She's such a special player and just when you think she's tapped out, she's getting better," Team USA coach Katie Meier of Miami (Fla.) said, via SNY.com. "Even throughout this tournament, she faced a lot of different defenses and a lot of different strategies. She's patient and she hunts her shots when we need her. She rose to the occasion and that's kind of her M.O.

"It's a joy. She is joyful. She is just so fun to coach. Before the game when we were in the hotel lobby, I said, 'I just want you to know, I came to win.' And she's like 'I got you coach.' It was like, 'wow.' The kid's got all that pressure on her and she told me she got me. She's a champion."

For Stewart, that makes five gold medals, and her second as part of the U-19 team. Previous golds came at the 2009 FIBA Americas U-16 tournament, the 2010 FIBA U-17 world championships, and the 2012 FIBA Americas U-18 tournament.

"This was different because I had a different role," Stewart said. "Usually I'm not one of the older players and coming into this I was looked as a veteran because I've been in these situations before. I obviously had to play well and lead my team at the same time.

"I was just having fun this tournament. I was really looking forward to it. Shots were falling, which is always very nice. But the gold is the most important thing."

Other Huskies on the roster included Morgan Tuck and Moriah Jefferson, two players also quite familiar with representing their country; it was the fourth gold medal for Tuck, and the second for Jefferson.