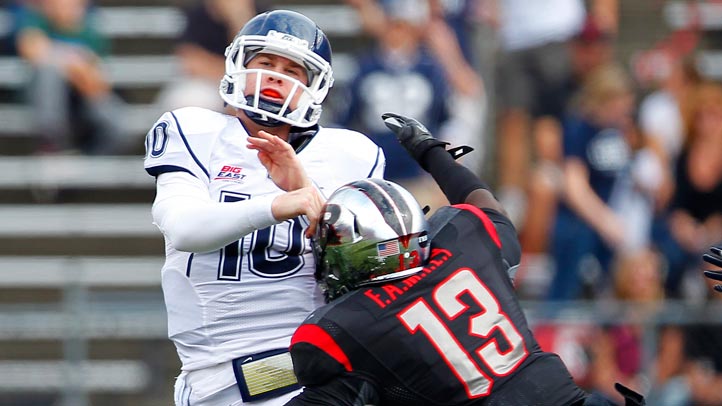 Just days ahead of the Huskies biggest game of the season, it's still not clear if they'll have their starting quarterback. Chandler Whitmer left in the fourth quarter of last Saturday's triple-overtime win at Louisville after taking a hit to the head. Backup Johnny McEntee, who played in all 12 games last season, took over for Whitmer and threw a go-ahead touchdown pass in the second overtime.

"Chandler Whitmer is doing pretty good," coach Paul Pasqualoni said Tuesday via the Hartford Courant. "We're optimistic that as we work through the week that Chandler will be available [Saturday]. It will be day to day."

Pasqualoni wouldn't characterize Whitmer's injury as a concussion but did say that the redshirt sophomore has been taking limited reps in practice and will be evaluated later in the week. When the medical staff clears him for contact, he'll return to practice and a determination about his status for Saturday's game against Cincinnati will be made.

"I don't want to get him out there and have something happen," said Pasqualoni.

Whitmer arrived in Storrs earlier this year from Butler Junior College (Kansas) by way of the University of Illinois. He's struggled with turnovers in his first season in the Big East, but he's tough, has a strong arm, and has gotten better each week. Whitmer officially won the starting job in August and through 11 games has completed 58 percent of his throws for 2,400 yards (8 TDs and 15 INTs).

If Whitmer can't go, Pasqualoni has faith in McEntee. "He's got games under his belt," the coach said.

Yes he does. A year ago, McEntee completed just 51 percent of his passes for 2,110 yards, but he had a better touchdown-to-interception ratio (12 TDs, 8 INTs). Whomever is under center, the Huskies' game plan won't change much: if they're going to become bowl eligible, it will be because of their defense.