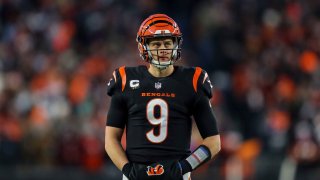 The first game of the NFL postseason came with some controversy.
With two minutes left in the first half, Cincinnati Bengals quarterback Joe Burrow raced toward the sideline before lofting a pass to wide receiver Tyler Boyd in the end zone. Before the ball reached Boyd, an official's whistle went off.
According to NFL rules, the play should have immediately been ruled dead and the down should have been replayed.
The play put the Las Vegas Raiders down 20-6, but they scored a touchdown with 13 seconds left in the half to make it a seven-point game.