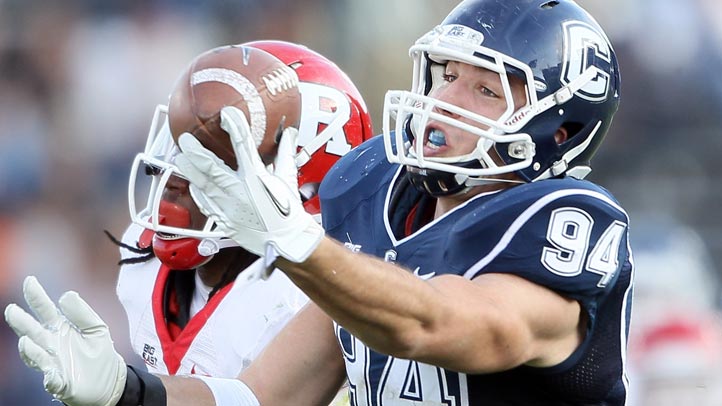 Way back in June, we listed the UConn's top-5 NFL Draft prospects, as NFLDraftScout.com's Rob Rang saw it. At the top of the list: tight end Ryan Griffin, along with Sio Moore, Blidi Wreh-Wilson, Dwayne Gratz and Trevardo Williams. In the months since the season ended, all the names listed but Griffin have seen their draft stock soar, in part because those players were invited to the annual NFL Combine.

All Griffin could do was continue training in Florida for UConn's pro day on March 27. So what happened? How could the Huskies' most consistent offensive player, and a favorite of a lot of people to have created some buzz ahead of the NFL Draft, be on the outside looking in at this point in the proceedings?

Good question, because it's a mystery to Griffin too.

"I was definitely frustrated when taking a look at all the [tight ends who were invited to the combine]," Griffin told the Hartford Courant's Desmond Conner. "It's a tough thing, just like the draft itself, it's a difficult process where a finite number of people that get invited to the combine, there's a finite number who get drafted," said Griffin's agent, Eddie Johnson. "Ryan's every bit as good as anybody coming out in this year's draft for one reason or another. He didn't receive the number of votes needed to get to the combine. ... The high number of juniors [coming out], especially at his position, had something to do with him not getting to Indianapolis."

Whatever the reasoning, the whole process of evaluating talent -- from college scouting up to pro days and individual workouts with NFL teams -- remains more art than science. NFL wideouts Wes Welker and Julian Edelman, and defensive lineman Jay Ratliff didn't receive combine invites and all have had successful professional careers.

For now, all Griffin can do is continue to train and seize the opportunities when they arise.

"I was frustrated, a little angry," he admitted to Conner, "but you don't complain, you just have to use it as a motivation now."

If Griffin performs for scouts, coaches and front-office types like he did for the Huskies he'll have nothing to worry about.