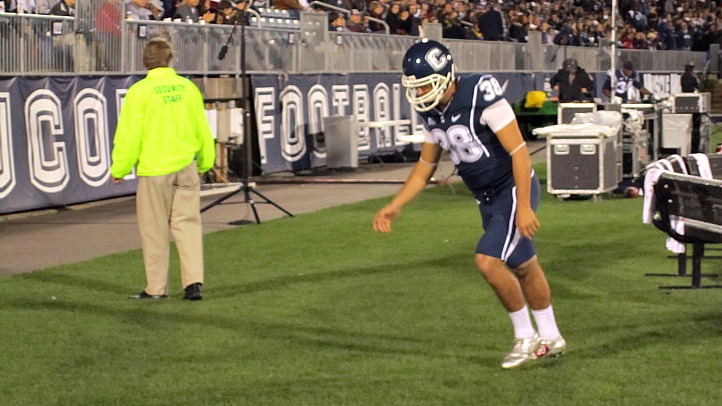 Kickers are a lot like officials in that you only hear about them when they mess up. But former UConn kicker Dave Teggart is in the news this week for all the right reasons; he's currently in Indianapolis at the NFL combine working out for prospective employers.

The combine is an annual event, sometimes referred to as the NFL's version of a meat market because draft-eligible invitees are poked, prodded, weighed and measured. And that's all before they undergo psychological and intelligence testing, take part in one-on-one interviews with interested NFL teams, and, finally, are put through some on-field drills.

For Teggart, UConn's all-time leader in career field goals (74), extra points (129) and career points (350), it's an opportunity to continue kicking at the next level. And while the college records are nice, as the Hartford Courant's Desmond Conner notes, in the pros it's all about the kickoffs.

"Well, I tell [NFL teams] I feel like I didn't get my best shot because right when I was making an impact to kick off, the head coach [Randy Edsall] left and Chad [Christen] came in as a kickoff specialist," Teggart told Conner. "He's booming the ball In practice, he puts them [deep]. Chad's going to be a great kicker for UConn. But yeah, I just didn't feel as though I got a chance to kick off there, and I know I can. That's what I have to prove here."

And that's the thing -- field-goal percentage is pretty important, but football is all about field position. Which means that, after you know your kicker is automatic from 40 yards and in, you'd also like him to regularly put the ball into the end zone on kickoffs. Teggart didn't get that opportunity after Paul Pasqualoni took over in 2011 but that doesn't mean he isn't capable.

"I went to that Little Rock, Ark., players' all-star classic and had some good kickoffs," he said. "I mean, it's a matter of — I can't do anything about it now, so I move forward here and need to show them I can do it."

So while Teggart goes about convincing NFL coaches and scouts that he's proficient on kickoffs, his reputation as an accurate long-range kicker precedes him. He was 4 for 4 on field-goal attempts of 50 or more yards last season.

Some teams carry two kickers: one for field goals the other for kickoffs, but the key to making an NFL roster as a special teams player is versatility. He's one of just five kickers at the combine so that's a good start -- NFL teams are aware of his skills -- but recent draft history doesn't include many kickers. Since 2006, none have been taken before the fourth round, and no more than three kickers have been selected in a given draft.

The draft isn't the be-all end-all, however. Plenty of successful kickers start as undrafted free agents. Whatever path awaits Teggart, he's very familiar with the risks.

"It's a tough gig and it's not a lot of job security," he said. "But, hey, I chose this business, and if you get the right break, you perform and you get your shot. You take it. You've got to get in somewhere. It's a tough row to hoe, but it's always been my dream and I'm going to make it."