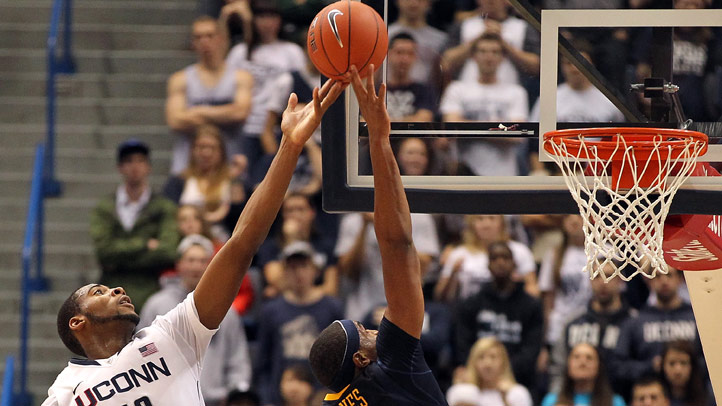 Earlier this week, we mentioned that ESPN analyst and former college coach Fran Fraschilla thought enough of Jeremy Lamb to suggest that the former UConn standout would be the first shooting guard taken in next month's NBA Draft. And in general, there isn't much variation in opinions regarding Lamb, who had little trouble creating his own shot during his two-year college career. His teammate, Andre Drummond, is another story, however.

Drummond arrived in Storrs last summer as the nation's best high school player. His freshman season didn't reflect that; Drummond struggled with everything from free throws, to defensive rebounding to consistency. (Which, when you remember that he was still a teenager playing big-time college basketball for the first time in his life, made perfect sense.)

First-year struggles aside, Drummond entered the NBA Draft where he's expected to be a top-5 pick, and could go as high as No. 2 behind Kentucky's Anthony Davis. SBNation's Sacramento Kings blog, Sactown Royalty, wrote Wednesday about the draft-eligible big men who would compliment DeMarcus Cousins in the front court. Not surprisingly, Davis was at the top of the list, but here's what they had to say about Drummond:
Then there are the big men who could be boom or bust in the NBA. Andre Drummond is one of the youngest players in the draft and also one of the most raw. He struggled in his lone season at UConn, and the Huskies didn't even make it past the first round of the tourney. Drummond has a couple things going for him. He's insanely athletic, and also a great shot-blocker and offensive rebounder.

However he's a very bad defensive rebounder and has an incredibly raw offensive game. He has absolutely no range outside of the paint, and just judging by the 29.5% free throw percentage, that's probably not going to change anytime soon. Still, at some point the upside outweighs the risk, and it might be worth the Kings trouble if he manages to fall down to the Kings (assuming the Kings don't jump up into the top 3, where I wouldn't take Drummond).
And that, as they say, is the rub. Not just for a team looking for a complementary paint player, but for clubs searching for big men to build around.

That said, there's still every reason to expect Drummond to go early. NBA teams have drafted teenagers for two decades now with the understanding that it will require a lot of on-the-job training and the payoff might not come for two or three years down the road. Yes, Drummond could turn out to be a bust but he could also be one of the league's most dominating players five years from now. And that's why you take the risk.