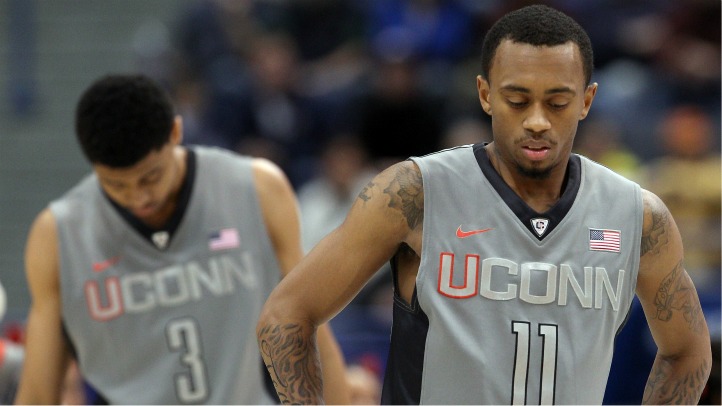 The Huskies began the season as the No. 4 team in the country. That, it turns out, has been the highlight. They've long since fallen out of the top 25 and any delusions of mediocrity went out the window with Tuesday's loss to Providence. Also out the window: the chances of making the NCAA Tournament.

Heading into their final three games -- all Big East affairs, against Syracuse, Providence and Pitt -- the thinking was that UConn would need to win two of three. Two games later, they're 0-2. And unlike the UConn women, who found inspiration in the form of Notre Dame's Becca Bruszewski in their last loss, the men have no answers and little hope.

In the light of day, the loss is somehow seems worse; the Huskies blew a double-digit lead against an inferior opponent. And now, not only do the NCAAs seem like a pipe dream, there's no easy solution to fix what ails this team.

"I thought we had control of the game," said associate head coach George Blaney, "but we did a lot of things wrong from that point on."

Unless UConn can get its hands on a time machine, there's no use in belly-aching about the past. All they can do now is find a way to beat Pitt, recapture some of that 2011 Big East Tourney magic, and do a lot of praying.

On Monday, ESPN's resident bracket oracle, Joe Lunardi, had the Huskies as an 11 seed. The New Haven Register's David Borges isn't quite so bearish:

"I don't care what their RPI is, or whether they (somehow) still have the nation's No. 1 strength of schedule. I don't care if the ol' "last 10 games" aren't supposed to matter much, if at all."

"They should matter. The Huskies have lost nine of their last 12 games. Their only three wins over the past 1 1/2 months came against a Herb Pope-less Seton Hall, last-place DePaul and 14th-place Villanova. … I'm sorry, but getting an NCAA tourney invite shouldn't be based beating a few good teams two months earlier, then playing a lot of really good teams and losing to all of them."

CollegeBasketballTalk.com's Nick Fasulo paints a scenario that has the Huskies making the Big Dance but reduced to taking part in one of the two play-in games.

"While the First Four has created two extra at-large spots, it's still the bottom of the barrel for non automatic qualifiers. A place where teams put on a front about their excitement to be part of the Big Dance all while knowing they and have plenty to prove.

This land would be uncharted territory for such a successful program, but that's where the Huskies may find themselves two weeks from now: matched-up against a higher seeded team that possesses far less talent."

To avoid that fate -- or one worse than that -- UConn has to win Saturday and then do the impossible in the conference tournament.