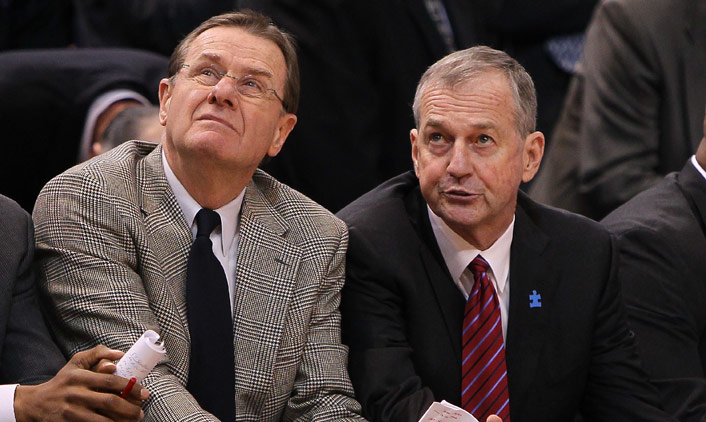 Jim Calhoun may not yet be ready to call it quits (we think), but that reality isn't far off. He arrived at UConn in 1986, back when the program not only lacked national acclaim, but was barely recognized regionally. In the quarter-century since, the Huskies have three national championships and countless players who have graduated to the NBA. So when that fateful day arrives and Calhoun retires for good, the program will lose the most important person in its history.

ESPN's Andy Katz calls it "one of the toughest tasks for new athletic director Warde Manuel and president Susan Herbst," and that could be exacerbated by the uncertain climate associated with conference realignment.

"I have gone on record as stating that Calhoun wants assistant coach Kevin Ollie to be his replacement," Katz wrote last week. "Ollie would make more sense than anyone else. He is the link to UConn's early surge to national relevance. He is a longtime NBA journeyman who has a direct link to NBA talent.

"Ollie can recruit and has strong connections and he continues to build on relationships in the profession. Is he green and untested as a head coach? Yes. But so were countless others. With a good staff, he could flourish. But it won't be easy. Connecticut is in a unique spot in an ever-changing landscape in college athletics. What becomes of the ever-fluid Big East? Will the Huskies land in the ACC if the league decides to expand to 16 teams? How will this season's NCAA postseason ban affect the perception of the program in the future? "

Ultimately, whoever is chosen to succeed Calhoun -- whether it's Ollie or someone else -- will face unimaginable pressure to keep the program relevant. And that doesn't mean winning 15-20 games for a few years while getting settled; it means annually competing in the Big East and on the national stage, and landing blue-chip recruits in the process.