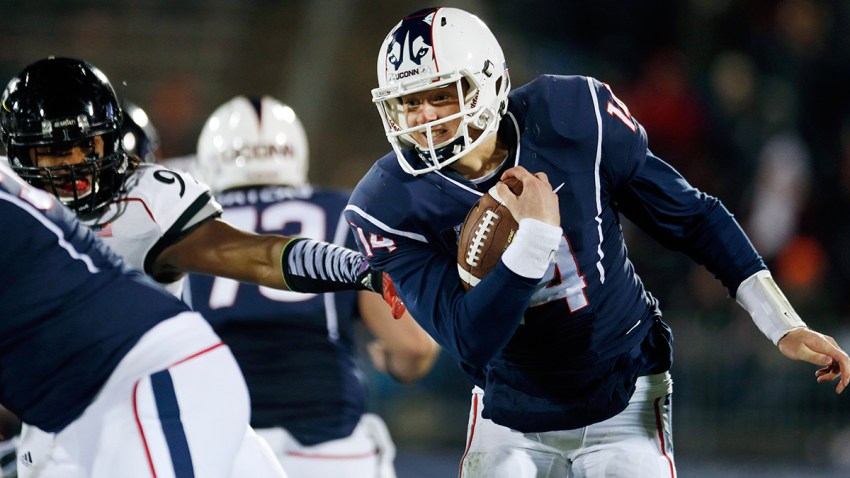 Good news: Sophomore Tim Boyle made his first start of the season Saturday night against Cincinnati.

Bad news: He finished 13 of 21 for 70 yards and no touchdowns, minus-25 yards rushing, and a a quarterback rating of 1.0. Senior Chandler Whitmer, who had started the eight games, was 1 of 5 for 11 yards and an interception.

So why the decision to roll with Boyle out of the gate?

"We hadn't seen him do if he could start in a game, we hadn't seen it yet," first-year coach Bob Diaco said afterwards, via the New Haven Register. "Nothing against Chandler but we wanted to see what Timmy would give us. He is going to get better and better and he needs to get better and better. The only way to get better and better is to play."

That's the hope. The Huskies were outclassed by the Bearcats, 41-0, including trailing 27-0 at the half.

"We had a good game plan I thought we were going to be able to execute," Boyle said. "Turnovers and execution were the culprit, I think once we start executing and handing onto the ball, we can do some good things."

The plan coming into the season was to start Casey Cochran, have Whitmer as the backup, and redshirt Boyle. But Cochran retired from football after sustaining a Week 1 concussion, forcing Boyle to remain active on game days. Diaco said last week that the plan was to have Boyle head into the offseason as the Huskies' starter, and maybe that thinking has been expedited.

"Once I saw my role increase in practice I thought I was going to play more and I was going to get the majority of the snaps, not necessarily the start," Boyle said. "Chandler and I have been rotating on and off and see what does from there but nothing predetermined. It is always good to get more snaps. I know this sounds bad but the more mistakes you can make, the game of football is about making mistakes and not trying to make them twice, trying to learn from them. I think the more snaps I get the more mistakes I am going to make. It is weird to say but down the road it is probably going to help me a little more."

Now Boyle has to show improvement, which he fully understands.

"It is more settling into the game," he said. "You can ask any quarterback, it is tough in the beginning of the game to try to get into a rhythm especially when you are going 3 and out and have turnovers like that. More towards the end of the game I had more confidence in myself, I started seeing things a little easier. I am nowhere (near) where I need to be, where I want to be and that is going come down to film study and working hard in practice. I think the hardest thing for me is to just see the defense and make the right decision. I have a long way to go but I think it has increased my confidence level."